San Francisco 49er Corbin Kaufusi Launches Giving Machines Oakland
This article was contributed by a local member of The Church of Jesus Christ of Latter-day Saints. The views expressed may not represent the views and positions of The Church of Jesus Christ of Latter-day Saints. For the Church's official site, visit churchofjesuschrist.org.
Article written by Miriam A. Smith
A massive 6 foot 9 inches, 275 pounds, San Francisco 49er offensive lineman Corbin Kaufusi looks menacing on the field. But Saturday night he was all smiles as a member of the Giving Machines ribbon-cutting team at Oakland Temple Hill (The Church of Jesus Christ of Latter-day Saints)."
"A lot of people want to believe that we are naturally selfish," Kaufusi told the crowd gathered for the opening ceremony. But, he explained, the opposite is true. "We are naturally inclined to give and to serve others." Kaufusi noted that having the Giving Machines in our community presents a profound opportunity to help the participating organizations. "I am so blessed to be up here amongst such amazing people that do so much in the community. So, I just think, wow, let's just keep giving," he said.
The Giving Machines are vending machines that, rather than dispensing drinks, food, or some novelty, dispense love, hope, and support to those in need. Three Giving Machines are available at Oakland Temple Hill through January 3rd. These machines allow all to purchase a gift for one of six humanitarian organizations.
Participating non-profits include three local and three global organizations. Tri-Valley Haven, the George Mark Children's House (George Mark), and Emeryville Citizens Assistance Program (ECAP) serve adults and children in the Bay Area while UNICEF, Church World Service (CWS Global), and Water Aid address humanitarian crises around the world.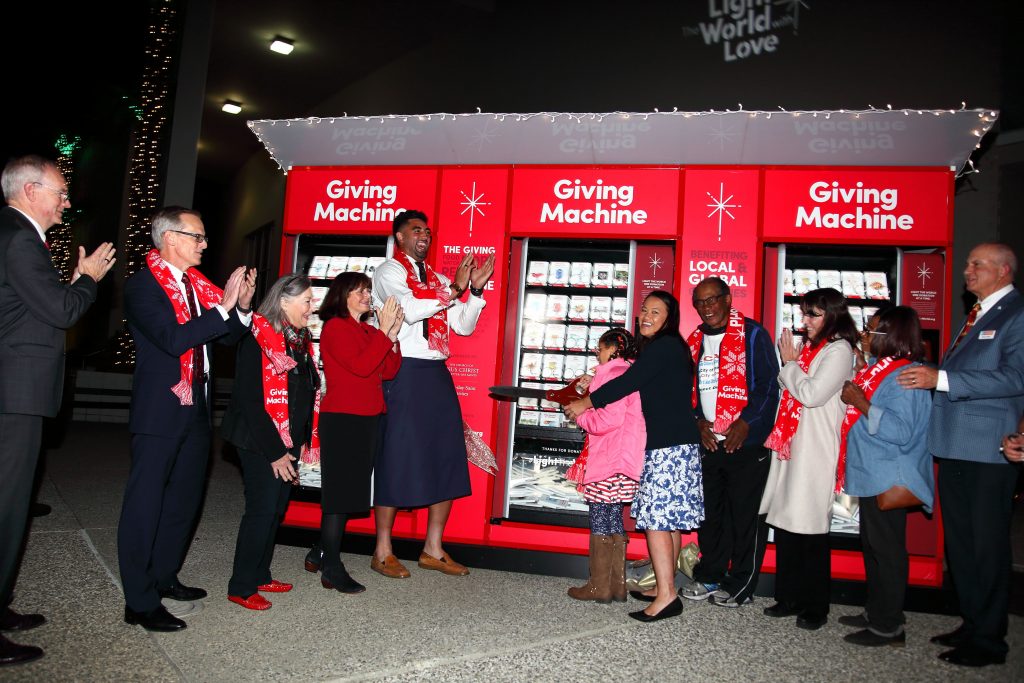 "What a fantastic idea!" said Christine Dillman, Associate Director of Tri-Valley Haven, a domestic violence, sexual assault, and homeless service agency serving the Tri-Valley and East Bay areas. "What a great way to get kids involved, teens involved, adults involved," she said. The work of Tri-Valley is driven by people who give and by volunteers. "What a great, innovative way to connect with the community," Dillman said.
Linda Ashcraft Hudak, CEO of George Mark, found the Giving Machines to be incredibly unique, current, and perfect for the Bay Area. "It fits right in with our technology culture here," she said. George Mark takes care of children with an end-of-life diagnosis that need end-of-life care or those with a life-limiting condition. Hudak said their work cares for families in every way and gives them a needed opportunity to focus on their other children or even take a vacation. While children come from all Bay Area Counties to George Mark, they particularly serve the nine Bay Area counties, Hudak said. "Most importantly, our families never see a bill," she said.
ECAP has been a 100% volunteer organization since its founding in 1985 by Nellie Hannon when she started gathering food in her garage to give to those who needed it. Today they serve just over 300 families and individuals every day, six days a week, distributing 25 tons of food each week. "Of course we need help to survive," said Bobby Miller, Director of ECAP and Hannon's brother. "Any support we get is so much appreciated," he said.
Welcoming the Giving Machines to Oakland's District 4, Council Member and Mayoral Candidate Sheng Thao, said this opportunity for Oakland was fabulous. "It truly allows for thousands of people to come and actually touch the lives of so many people around the world," she said. When Thao first heard about the Giving Machines she thought it was a really, cool idea but didn't know what to expect. "Now that I'm seeing them I thought, why not sooner," she said. The machines allow everyone to make a direct impact on other people's lives, one person at a time. Thao said she was very happy that Oakland had been selected as one of only 10 locations in the world to host Giving Machines.
Contra Costa County Supervisor Candace Andersen, who conducted the opening ceremony, noted that Giving Machines will benefit people throughout the Bay Area. Needs aren't confined by administrative borders, she said. "People in need don't think about country boundaries." The three local non-profits that are highlighted address critical needs in the wider area. "This is going to be very impactful for the community," Andersen said.
Speaking on behalf of the Giving Machines sponsor, the Church of Jesus Christ, Elder Steve Merrell, Presiding Authority for the Greater Bay Area, expressed gratitude for the work of the non-profits. He said it was easy to see that there are immense needs in the area and appreciated that the Church could partner with these organizations. "We hope this will draw members of our community to Oakland Temple Hill and find the joy that comes from giving," he said.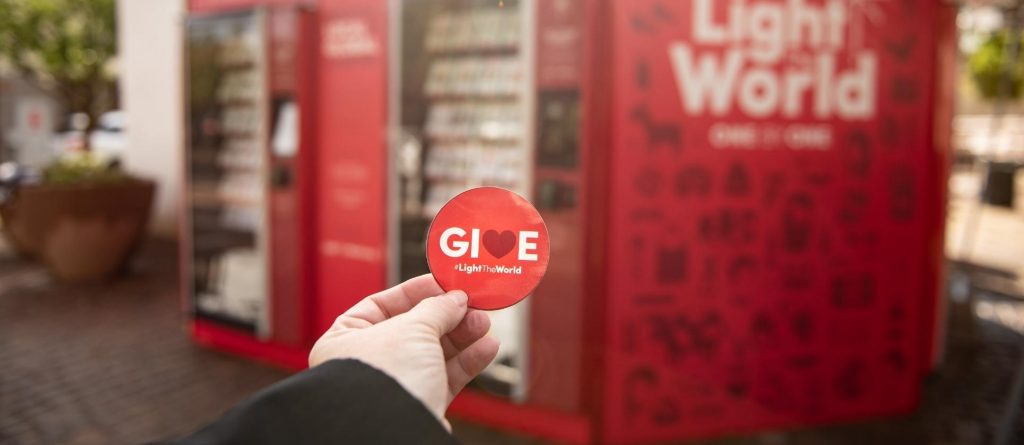 Giving Machines were first introduced by the Church of Jesus Christ in 2017 with three vending machines in one location. More than half a million dollars were directed to humanitarian organizations that year. In 2019, Giving Machines were located in 10 cities raising more than $6.2 million for local and global charities. The machines were on a pandemic hiatus in 2020. Overall, these unique vending machines have accounted for more than $9.1 million in donations for relief efforts throughout the world.
All administrative costs of the machines, from construction to installation to operation and even the credit card fees, are covered by the Church. 100% of all donations collected will be delivered to the respective non-profit with each organization ensuring that at least 90% of funds received go directly to those in need.
The annual Temple Hill Christmas Lights and Days of Christmas Concert Series run concurrently with the Giving Machines. The Lights, Concerts, and Giving Machines are all part of the Church's 2021 worldwide campaign to Light the World with Love. Temple Hill is open to the public from 9:00 a.m. to 9:00 p.m., 4780 Lincoln Avenue in Oakland. Availability of the machines has been extended to January 3rd with a free closing concert by dance-pop group The Jets.
Other Giving Machines cities this year include Denver, Honolulu, Las Vegas, Nashville, Kansas City, New York, Gilbert, Arizona and Salt Lake City, and Orem, Utah.