Scrooge! The Musical on Oakland's Temple Hill
This article was contributed by a local member of The Church of Jesus Christ of Latter-day Saints. The views expressed may not represent the views and positions of The Church of Jesus Christ of Latter-day Saints. For the Church's official site, visit churchofjesuschrist.org.
Auditorium seats filled quickly last weekend as Scrooge! The Musical ushered in the Christmas season on Oakland's Temple Hill. Scrooge! opened to great applause and a fervor of excitement. Directors Jennifer Brown and Alan Chipman have spent the last 18 months doing what they know best: analyzing the data and strategizing how it could be possible to audition, rehearse, direct, transport, build, reconstruct, fix, costume, encourage and inspire a truckload of actors, singers, dancers, instrumentalists and all the rest that it takes to breathe life into a show. They do it with ingenious talent and a staff of eager men and women equally committed to doing whatever it takes to be worthy of the spotlight and applause of a full house.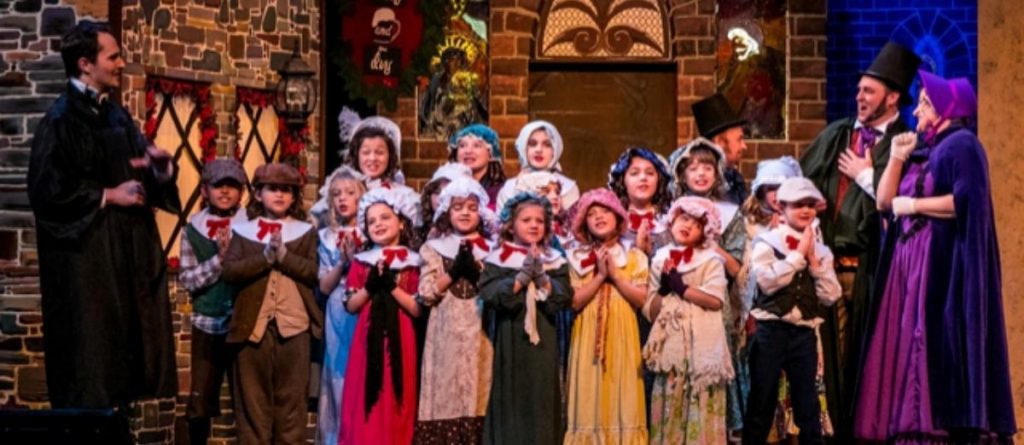 It hasn't been easy. This era of reflection has nudged people to pick up stakes and move, creating vacancies in the ranks and forcing those remaining to muster true grit until the gaps are mended. Carrying the leading role (Ebenezer Scrooge) since its Oakland origins in 2016, actor Chris Pedersen convincingly depicts the character through several transformations, reminiscent of the times.
Clearly, the process is complex. But the delivery is what really counts. Can one escape real life for a few hours and come away, moved, entertained, touched or inspired? Definitely. It's all there. There's acting, singing and dancing of all ages, suitable for viewing by young and old. Get your free (not to be mistaken as discounted value; that's just the way they do it on Temple Hill) tickets. Bring the family. It will be worth it. Embrace Christmas like never before.