Christmas Activities in the East Bay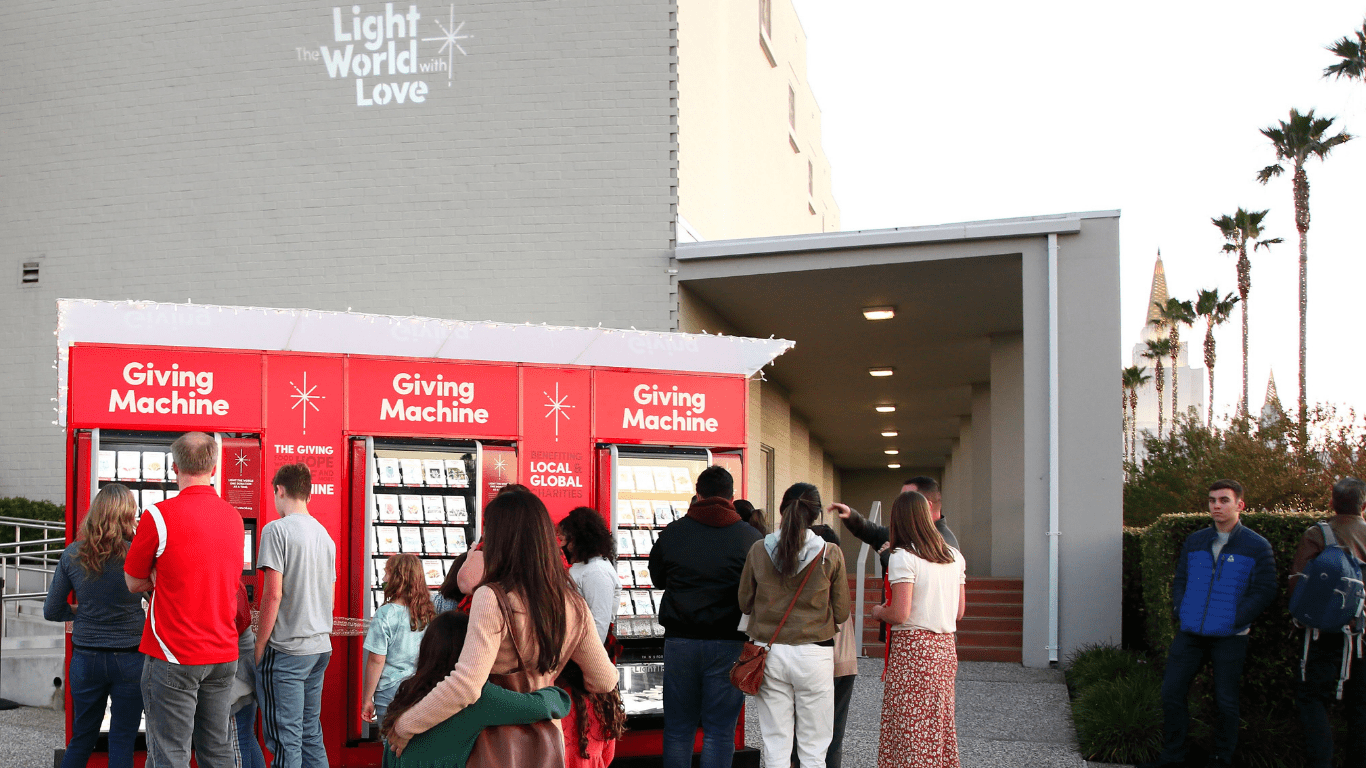 This article was contributed by a local member of The Church of Jesus Christ of Latter-day Saints. The views expressed may not represent the views and positions of The Church of Jesus Christ of Latter-day Saints. For the Church's official site, visit churchofjesuschrist.org.
What are the best Christmas activities in the East Bay? We've compiled 25 awesome things that you can do each day in the East Bay this holiday season!
Light the World with goodness and joy this December through service opportunities, free holiday activities, and faith celebrations with local East Bay churches and organizations.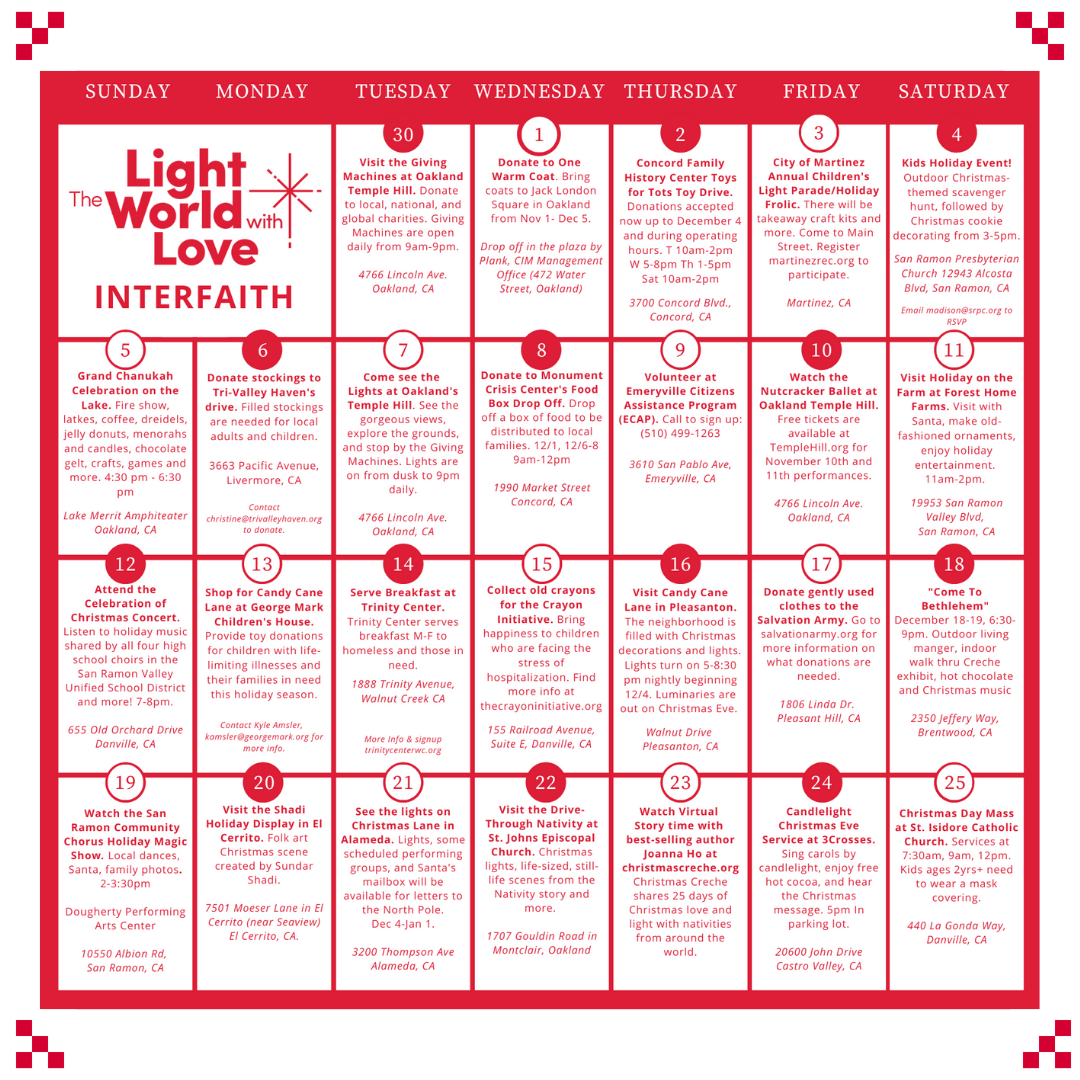 25 Amazing East Bay Christmas Activities
This list includes events and service opportunities in Alameda, Brentwood, Castro Valley, Concord, Danville, El Cerrito, Emeryville, Livermore, Martinez, Oakland, Pleasant Hill, Pleasanton, San Ramon, and Walnut Creek.
November 30- Visit the Giving Machines at Oakland Temple Hill for Giving Tuesday. Donate to local, national, and global charities. Local donations support Emeryville Citizens Assistance Program (ECAP), Tri-Valley Haven, and George Mark Children's House. Giving Machines are open daily from 9am-9pm from Nov 23, 2021- Jan 3, 2022. 4766 Lincoln Ave.Oakland, CA
Dec 1- Donate to One Warm Coat. Bring coats to Jack London Square in Oakland from Nov 1- Dec 5. Drop off in the plaza by Plank, CIM Management Office (472 Water Street, Oakland)
Dec 2- Concord Family History Center Toys for Tots Toy Drive. Donations accepted now up to December 4 and during operating hours. T 10am-2pm W 5-8pm Th 1-5pm Sat 10am-2pm 3700 Concord Blvd.,Concord, CA
Dec 3- City of Martinez Annual Children's Light Parade/Holiday Frolic. There will be takeaway craft kits and more. Come to Main Street. Register martinezrec.org to participate. Martinez, CA
Dec 4- Kids Holiday Event at San Ramon Presbyterian Church. Outdoor Christmas-themed scavenger hunt, followed by Christmas cookie decorating from 3-5pm. San Ramon Presbyterian Church 12943 Alcosta Blvd, San Ramon, CA Email [email protected] to RSVP
Dec 5- Grand Chanukah Celebration on the Lake. Fire show, latkes, coffee, dreidels, jelly donuts, menorahs and candles, chocolate gelt, crafts, games and more. 4:30 pm – 6:30 pm Lake Merritt Amphitheater Oakland, CA
Dec 6- Donate stockings to Tri-Valley Haven's drive. Filled stockings are needed for local adults and children. 3663 Pacific Avenue, Livermore, CA Contact [email protected] to donate.
Dec 7- Come see the Christmas Lights at Oakland's Temple Hill. See the gorgeous views, explore the grounds, and stop by the Giving Machines. Lights are on from dusk to 9pm daily. 4766 Lincoln Ave. Oakland, CA
Dec 8- Donate to Monument Crisis Center's Food Box Drop Off. Drop off a box of food to be distributed to local families. 12/1, 12/6-8 9am-12pm 1990 Market Street Concord, CA
Dec 9- Volunteer at Emeryville Citizens Assistance Program (ECAP). Call to sign up: (510) 499-1263 3610 San Pablo Ave, Emeryville, CA
Dec 10- Watch the Nutcracker Ballet at Oakland Temple Hill. Free tickets are available at TempleHill.org for November 10th and 11th performances. 4766 Lincoln Ave. Oakland, CA
Dec 11- Visit Holiday on the Farm at Forest Home Farms. Visit with Santa, make old-fashioned ornaments, and enjoy holiday entertainment. 11am-2pm. 19953 San Ramon Valley Blvd, San Ramon, CA
Dec 12- Attend the Celebration of Christmas Concert. Listen to holiday music shared by all four high school choirs in the San Ramon Valley Unified School District, the Blackhawk Jazz Chorus, and more! 7-8pm. 655 Old Orchard Drive Danville, CA
Dec 13- Shop for Candy Cane Lane at George Mark Children's House. Provide toy donations for children with life-limiting illnesses and their families in need this holiday season. Contact Kyle Amsler, [email protected] for more info.
Dec 14- Serve Breakfast at Trinity Center. Trinity Center serves breakfast M-F to the homeless and those in need. 1888 Trinity Avenue, Walnut Creek CA More Info & signup trinitycenterwc.org
Dec 15- Collect old crayons for the Crayon Initiative. Bring happiness to children who are facing the stress of hospitalization. Find more info at thecrayoninitiative.org 155 Railroad Avenue, Suite E, Danville, CA
Dec 16- Visit Candy Cane Lane in Pleasanton. The neighborhood is filled with Christmas decorations and lights. Lights turn on 5-8:30 pm nightly beginning 12/4. Luminaries are out on Christmas Eve. Walnut Drive Pleasanton, CA
Dec 17- Donate gently used clothes to the Salvation Army. Go to salvationarmy.org for more information on what donations are needed. 1806 Linda Dr. Pleasant Hill, CA
Dec 18- "Come To Bethlehem" December 18-19, 6:30-9pm. Outdoor living manger, indoor walk thru Creche exhibit, hot chocolate and Christmas music 2350 Jeffery Way, Brentwood, CA
Dec 19- Watch the San Ramon Community Chorus Holiday Magic Show. Local dances, Santa, family photos. 2-3:30pm Dougherty Performing Arts Center 10550 Albion Rd, San Ramon, CA
Dec 20- Visit the Shadi Holiday Display in El Cerrito. Folk art Christmas scene created by Sundar Shadi. 7501 Moeser Lane in El Cerrito (near Seaview) El Cerrito, CA.
Dec 21- See the lights on Christmas Lane in Alameda. Lights, some scheduled performing groups, and Santa's mailbox will be available for letters to the North Pole. Open from Dec 4-Jan 1st. 3200 Thompson Ave Alameda, CA
Dec 22- Visit the Drive-Through Nativity at St. Johns Episcopal Church. Christmas lights, life-sized, still-life scenes from the Nativity story and more. 1707 Gouldin Road in Montclair, Oakland
Dec 23- Watch Virtual Story time with best-selling author Joanna Ho at christmascreche.org Christmas Creche shares 25 days of Christmas love and light with nativities from around the world.
Dec 24- Candlelight Christmas Eve Service at 3Crosses. Sing carols by candlelight, enjoy free hot cocoa, and hear the Christmas message. 5pm in the parking lot at 3Crosses. 20600 John Drive Castro Valley, CA
Dec 25- Christmas Day Mass at St. Isidore Catholic Church. Services at 7:30am, 9am, 12pm. Guests ages 2yrs+ need to wear a mask covering. 440 La Gonda Way, Danville, CA
Dec 26- Jan 3- Come visit the Giving Machines and Temple Lights again! Giving Machines will be on Temple Hill from November 23, 2021- January 3, 2022. Don't miss them!
---
Print out your own calendar with all of these Christmas activities in the East Bay using the button below! Print it out to share with friends and neighbors.
Printable East Bay Activitiy Calandar
Find more ways to serve locally at JustServe.org.