November 24 – December 31
Everyday: 9:00 AM – 9:00 PM
4770 Lincoln Avenue, Oakland, CA
Come and enjoy peace and beauty this Christmas season at Temple Hill!
Experience festive Christmas lights and holiday spirit at one of the many performances.
Most "Days of Christmas" activities are free of charge. All are open to the public and family-friendly. Please select here to see a printable list of events for Days of Christmas at Temple Hill.
Click below to learn more about the Christmas events happening at Temple Hill and reserve tickets today!
Events & Performances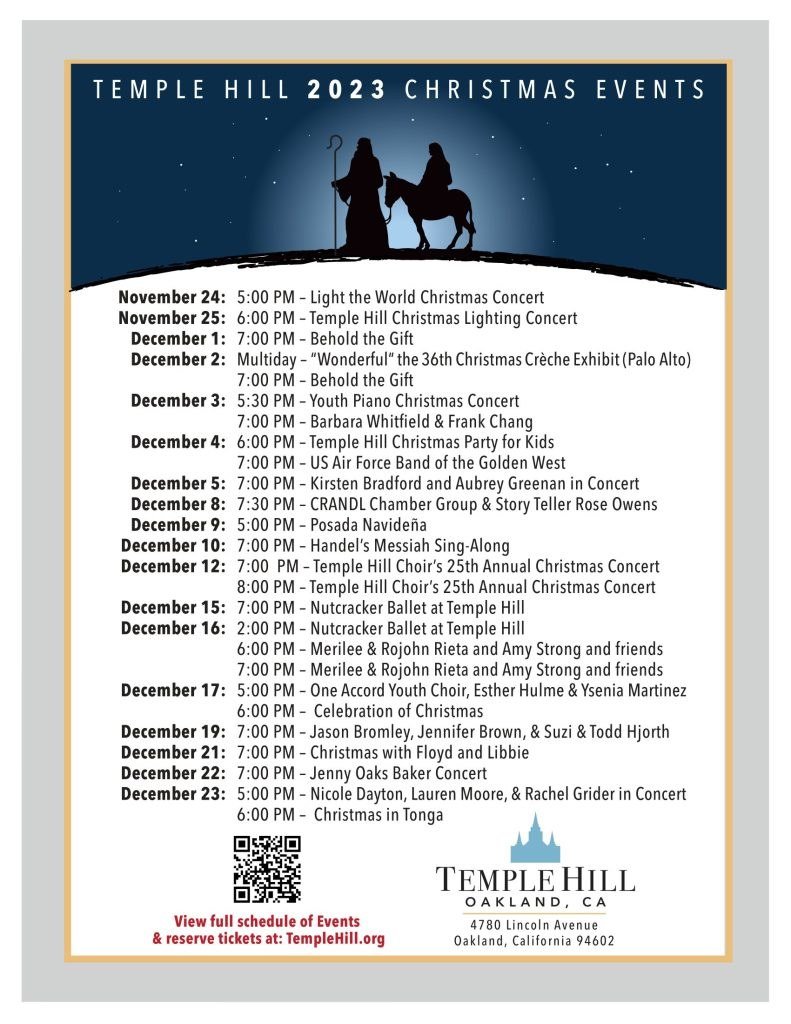 Subscribe for updates from Temple Hill
Nativity Tours
Celebrate the original Christmas story by taking a personal Temple Hill Nativity Tour at the Visitors' Center. We invite you to explore the Christmas story as you are guided through inspiring works of art depicting Christ's birth and early life. Tours are free and can be reserved at the Visitors' Center.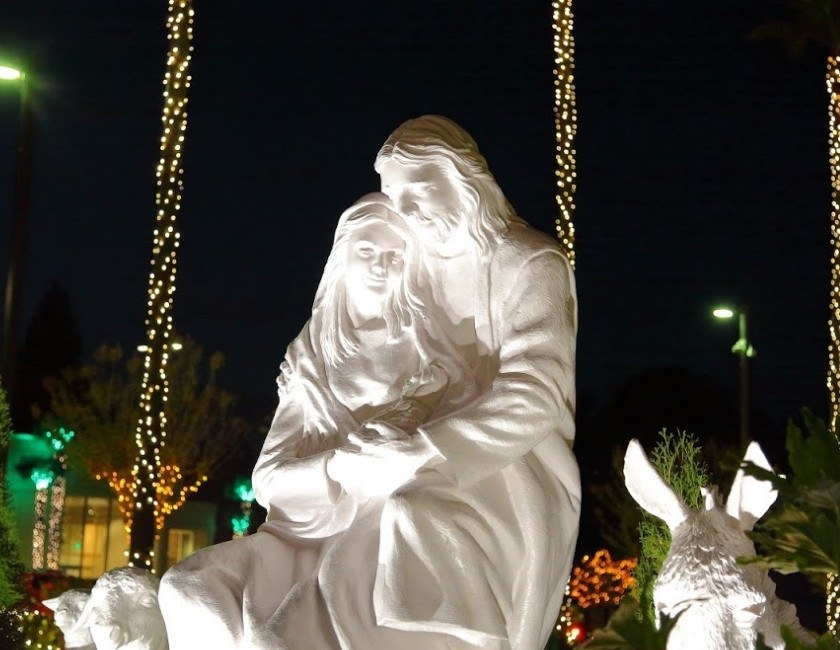 Christmas Lights Tours
Take in breathtaking views with a free personalized tour of the Temple Hill grounds. Experience the Christmas lights from the roof gardens and get the best photo shots of the season. Free guided tours are available from dusk to 8:30 pm, ending at 9:00 pm, and can be arranged at the Visitors' Center.
Days of Christmas FAQs
Are the Christmas events free?
All of the Christmas events held at Temple Hill are free of charge. Most of the Auditorium performances require you to reserve free tickets in advance. Check out the event page for more information about each individual event and whether a ticket is required. Ticket holders are asked to be in their seats no later than 15 minutes prior to the performance. After this time, the standby line will be admitted to fill in any remaining seats.
Do I need a ticket and is there standby seating?
Some of the events require a ticket to get in (check each individual event listing). If there is a ticket required we recommend that you make advanced ticket reservations to assure you have seats. However, if you do not have a ticket, arrive early and get in the standby line to the left of the main entrance. Ticket holders will be admitted first. They are asked to be in their seats 15 min prior to the performance. About 10-15 minutes before showtime, tickets expire, allowing those in the standby line to be seated in any remaining seats.
I am not a member of your Church. Can I still come?
Absolutely! Everyone is welcome to attend our events and our worship services. We only request that all attendees dress modestly, use clean language, and treat everyone with respect. We are Christians who do our best to follow the commandments and teachings of Christ. Whatever your background, you're invited to join us!
What should I wear?
The dress depends on the type of event. Business casual is a good rule of thumb for Auditorium events. You're welcome to wear any modest clothes that you feel comfortable in. For Devotionals and Sunday worship services, most men wear suits, sport coats, or shirts and ties, and women wear dresses or skirts. Children also typically dress up.
Can I bring my children?
All of the Days of Christmas events are family friendly and children are welcome! However, out of respect for the performers and other audience members, we suggest that the children in attendance be old enough to remain seated and attentive throughout the performance and that any disruptive children be calmed in the lobby.
How can I get updates on the Days of Christmas events?
Ticket holders for a particular event will automatically receive important email updates regarding that event and you can find other helpful information on the individual event listings on templehill.org. We also recommend following Oakland Temple Hill on Instagram (link) and Facebook (link) for general Christmas updates and helpful tips and reminders on upcoming events, parking, dress, etc. We also invite you to subscribe to our website to stay updated on everything happening at Oakland Temple Hill.
Subscribe to Temple Hill Communications
Where can I park?
Parking at Temple Hill is free. There are 3 lots: the main lot, the lower lot, and the upper lot right across the street. There is also nearby street parking.
How early should I arrive?
The house doors usually open about 30 minutes prior to performances, (sometimes earlier), but the line to enter for large events will begin earlier than that. We recommend arriving early enough to enjoy a free Temple Hill Christmas tour before getting in line. You can schedule that on templehill.org.
What if I can't attend? Can I cancel my tickets?
You may update or cancel any free tickets through Eventbrite. We appreciate you doing this if you can't attend so that we have a more accurate count of attendees.
Can I take pictures or videos?
It depends on the event, so check individual event listings, and listen for any announcements made prior to the performance. Visitors are always encouraged to take pictures and videos before and after the performance, or outside on the temple grounds. We'd love to see your pictures! Make sure to follow TAG us @oaklandtemplehill, #oaklandtemplehill.
What ADA accommodations are available at Temple Hill?
Temple Hill is committed to accommodating the needs of all guests with disabilities. ADA seating is available and our ushers will be happy to assist you when you arrive for the performance. ADA guests will be admitted first, so we recommend arriving early and coming to the front of the line. If you plan to bring a group of hearing impaired individuals, along with an ASL translator, please reach out well in advance so we can help make those arrangements prior to your arrival. Send us a message through templehill.org.
Accessible Parking and Entrances: Temple Hill has a limited number of ADA parking stalls available in the main lot on a first-come, first-served basis. Guests with special needs can also be dropped off close to the entrance if so desired. Just ask for directions when entering the parking lot. The main entrance into Temple Hill Auditorium is wheelchair accessible. The Visitors' Center and Chapel entrances are also ADA friendly. Certified service animals are permitted.
ADA Restrooms: There are ADA-accessible restrooms in the lobby.
Need a map?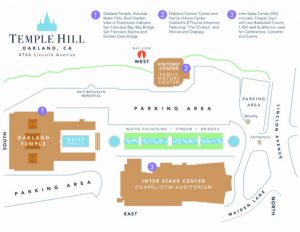 Have additional questions?
The best way to ask a question is to send us a message through templehill.org, or through Oakland Temple Hill on Facebook or Instagram.
Oakland Temple Visitors' Center: 510-328-0044
Thanks!
Upcoming Events