Brooklyn Voyage, On the Lord's Errand
Rebecca Ellefsen, Bay Area Historian and Genealogist
Gathering of the Saints
Filled with anticipation, with her husband Horace at her side, Laura Skinner carried her four-year-old son James onto the Ship Brooklyn. It was a chilly, sunny day on February 4th, 1846 as they bravely walked up the gangway. Devoted to each other, Horace held Laura's hand tightly. They were determined to strengthen the Church in the west.
Brigham Young was the prophet of The Church of Jesus Christ of Latter-day Saints. He wanted to gather the saints to what is now the Salt Lake Valley. Like so many others, the Skinner family did not have the means to travel across the plains with the saints from Nauvoo. Samuel Brannan was called to lead this second group of saints from along the eastern seaboard by ship to the west. Their ultimate goal was to create a way station for members traveling to join the main body of saints in the Great Basin.
Sacrifice for Unity 
Though sea travel was common in that day, this was one of the longest recorded voyages of a religious group to create a new settlement. The adventure was 24,000 miles around Cape Horn to California. It lasted almost six months.
Laura Skinner's family and their friends Isaac and Laura Goodwin, with their seven children, were two of the 51 families to join the voyage. There were 240 saints, including 98 children. Many of them sold all that they owned to cover passage at the cost of $75 for adults and $37.50 for each child. The few possessions they carried with them were stowed below deck.
The Brooklyn was a well-worn three-masted whaling steamer tub. The 445-ton ship, at 125 feet long and 28 feet wide, was reconfigured to accommodate passengers. Living quarters were very cramped and not well vented. The small staterooms had a ceiling height of only five feet. Wooden bunkbeds lined the walls, while a long table with benches sat in the center of the room for meals, study, and meetings.
The ship's cargo included copies of the Bible, the Book of Mormon, and other literature. A printing press, mill, farming and cooking supplies, sewing machines, and livestock were added to establish the settlement.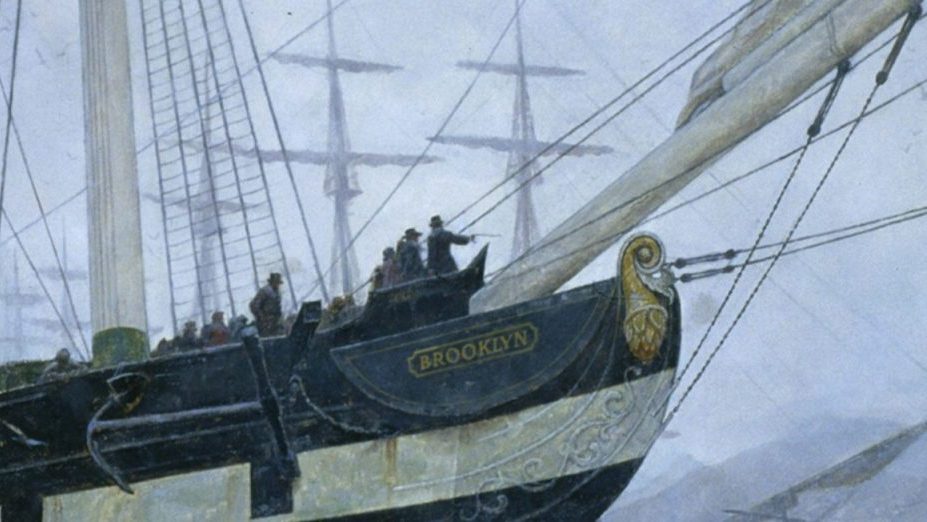 Faith on the high seas
At 2:00 PM, the Brooklyn lifted anchor. Captain Abel Richardson steered it from the old slip on the east river in New York City, not far from the present day One World Trade Center. Three hearty cheers echoed from the crowd on the pier. The saints cheered back as some wiped tears of sadness leaving their homeland, friends, and family. They felt anxious joy that filled their hearts with anticipation to serve and sacrifice for their faith.
The weather was calm, but as the evening progressed, the winds became more intense. By the fourth day, they headed into a fierce storm. It raged for days and was recorded as one of the worst storms in years on the east coast. Horace Skinner and Isaac Goodwin helped the other men to batten down the hatches. Passengers were tossed about violently. For their safety, women and children were strapped to their bunks. Children cried openly. In the dark and damp rooms, they sang hymns and pleaded in prayer for protection and deliverance. The ship moaned and creaked with each mountain of waves crashing against its sides. Water poured freely into each stateroom.
At one point, the captain came down to the saints. The sound was so deafening that the members gathered closely around him to hear his message. He said he had done all that he could do to protect them and save the ship. "My friends, there is a time in our lives, when it is fitting to prepare to die. That time has come to us, for I have done all I can do. Unless God intercedes, we must go down." A powerful and hopeful statement came from a passenger crying out, "We were sent to California, and we shall go there." The captain returned to his post and said, "These people have a faith that I have not got."
As the weather calmed, the saints in gratitude resumed normal activities. Horace was a shoemaker by trade. Isaac was a mason. All passengers contributed to the maintenance of the ship and the wellbeing of those on board. There was order in preparing for each day—meals, chores, and schooling for the children. Activities included letter and journal writing. Laura read aloud to her children passages from the Bible and Book of Mormon. Their hands were kept busy with mending clothing and sails, sewing stray buttons, needlework, weaving, and whittling.
Sundays were special days to gather in a service. The saints sang hymns of praise and read scriptures aloud. There was time for contemplation and reflection of one's relationship with their Heavenly Father.
Joy and heartache
Joy came in many forms. Two new additions were added to the company list: John Atlantic Burr and Anna Pacific Robbins. Passengers often watched majestic sea life—whales, dolphins, sharks, and birds. Brilliant stars twinkled in the sky at night. The saints would replenish food and water supplies on Juan Fernandez Island and the Sandwich (Hawaiian) Islands. Friendships were priceless and would last a lifetime.
Their days passed with many challenges and heartaches. Unbearable heat and glassy seas, few hours of daylight around Cape Horn, and cold winds were their companions. Food brought little comfort. Hardtack (flour biscuit), salt junk (cured meat), and a dwindling supply of fresh produce did little to lift their spirits.
The most difficult to endure was the deaths of loved ones and friends. Eleven passengers passed away. Laura and Horace Skinner had lost their newborn baby right before the start of the voyage. They now stood at the graveside of their beloved friend Laura Goodwin, who was injured down a stairway on the ship during a storm while pregnant. She died several days later. There were no words to comfort Isaac and his seven children.
Of the many miracles, Captain Richardson found Juan Fernandez Island. Laura was the only passenger to be buried on land. Hers is an example of enduring sacrifice to the gospel of Jesus Christ.
A Legacy in Testimony
The saints had one goal. Upon arrival to Yerba Buena (San Francisco), they established a community centered on the gospel of Jesus Christ. Their faith and knowledge that Heavenly Father had a plan for their efforts sustained them. They felt His guiding hand.
The Brooklyn Saints will be remembered for overcoming struggles and their testimonies in the Lord's work. They succeeded in establishing a place for the members of the church in the Bay Area. San Francisco, Oakland, Hayward, Fremont, and San Jose have their beginnings because of the hard work of these devoted saints.
Works Cited:
https://templehill.org/the-brooklyn-voyage-saints-of-service-and-sacrifice/
Ship Brooklyn Saints: Their Journey and Early Endeavors in California: Rischard H. Bullock, Publisher ShipBrooklyn.com, 2014ISBN: 1933170581,9781933170589
https://www.maritimeheritage.org/passengers/br073146.htm
https://catalog.churchofjesuschrist.org/assets?id=dffdd684-5cfb-49c2-9257-69c5a251da85&crate=0&index=0