Would You Like to Donate a Pig?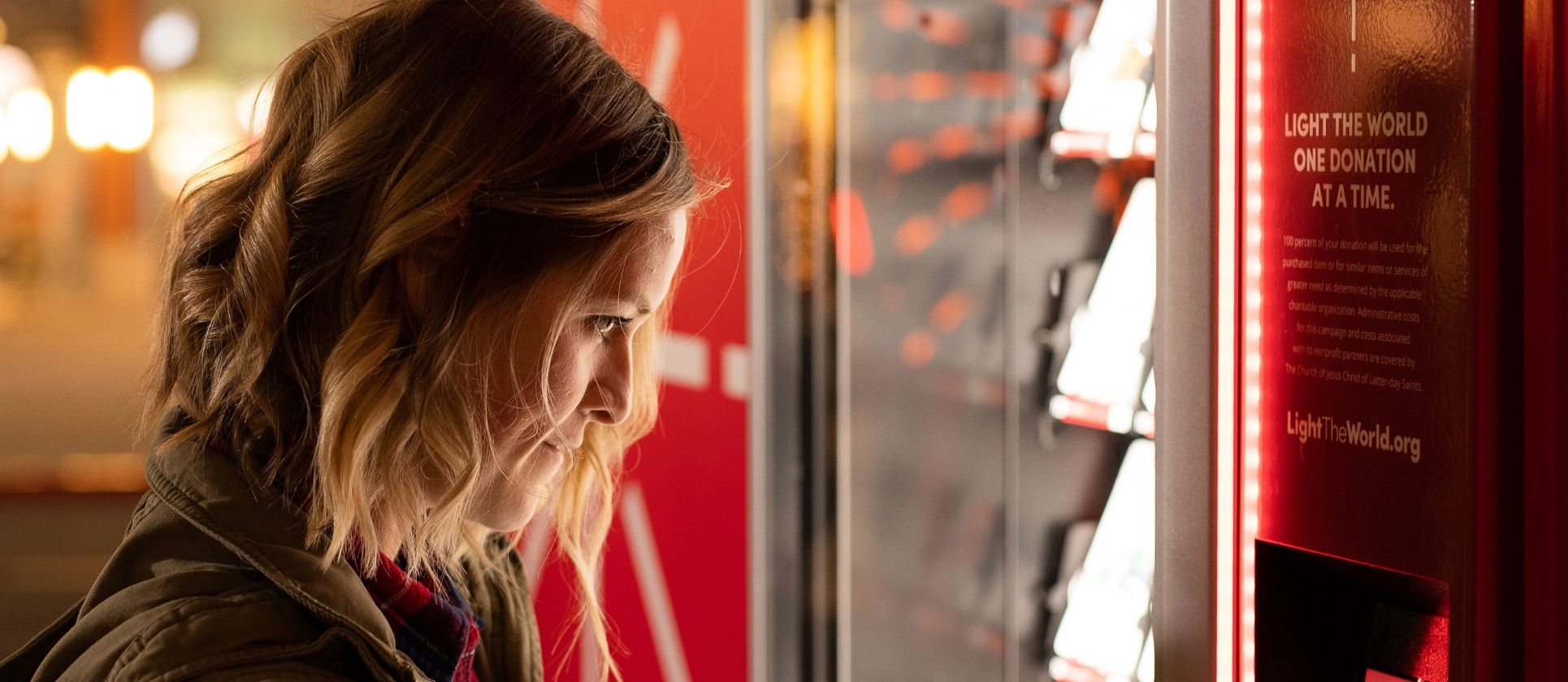 This article was contributed by a local member of The Church of Jesus Christ of Latter-day Saints. The views expressed may not represent the views and positions of The Church of Jesus Christ of Latter-day Saints. For the Church's official site, visit churchofjesuschrist.org.
Author: Evelyn Candland
Would You Like to Donate a Pig?
Imagine swiping your credit card through a vending machine, but instead of buying a candy bar, you could buy a pig for a family in Africa, pajamas for a child in a local shelter, or meals for your community food bank. That's exactly what you can do at the three Giving Machines that will be installed in front of the Interstake Center on Temple Hill in Oakland, from November 26th to January 2nd. We're tremendously excited to have these vending machines in Oakland for the first time. They are available to the public, and everyone is invited and encouraged to use them to make donations as part of your Christmas giving. Spread the word and share the cost of a goat or beehive with your friends and family.
In 2016, The Church of Jesus Christ of Latter-day Saints launched a program called Light the World to focus attention on service at Christmas time. Through advertising at Times Square in New York City and many other locations, people were encouraged to share the light of Christ by small acts of service each day during the month of December. The following year, the Giving Machines became a part of that effort. Using these vending machines our giving can reach beyond our families and even communities—it can bless the world. In the three years, the Giving Machines have been available, more than nine million dollars of goods and services have been donated through them.
The machines offer a wide variety of things that can be bought, besides food and clothing: livestock, beehives, an acre of sweet potatoes, vaccines, hygiene kits, medical items, college preparation exams, and more. When an item such as a pig, chicken, beehive, or an acre of sweet potatoes is provided to an individual or family, training is also given in how to use that item to grow a business so that the gift is of long-term benefit to a family or community. Communities in the United States and throughout the world have benefited from Giving Machines donations—countries in Africa, Central America, South America, and Asia.
The Giving Machines were available in 2017 only in Salt Lake City, Utah. That year, despite being only one location, $500,000 were donated through 28,000 transactions. The next year, 2018, they were installed in five locations: Gilbert, Arizona; Salt Lake City, Utah; Manila, Philippines; London, England; and New York City, New York. The response was remarkable. Through 92,000 transactions, $2.3 million were donated. 2019 brought even more success with the machines being installed in the same five locations and an additional five: Orem, Utah; Las Vegas, Nevada; Denver, Colorado; San Jose, California; and Hawaii. That year saw hundreds of thousands of transactions resulting in donations totaling $6.2 million. Unfortunately, the pandemic made it impossible to install any machines during 2020. This year there will be machines in ten locations: Oakland, California; Honolulu, Hawaii; Kansas City, Missouri; Nashville, Tennessee; Denver, Colorado; Gilbert, Arizona; Las Vegas, Nevada; New York City, New York; Orem, Utah; and Salt Lake City, Utah.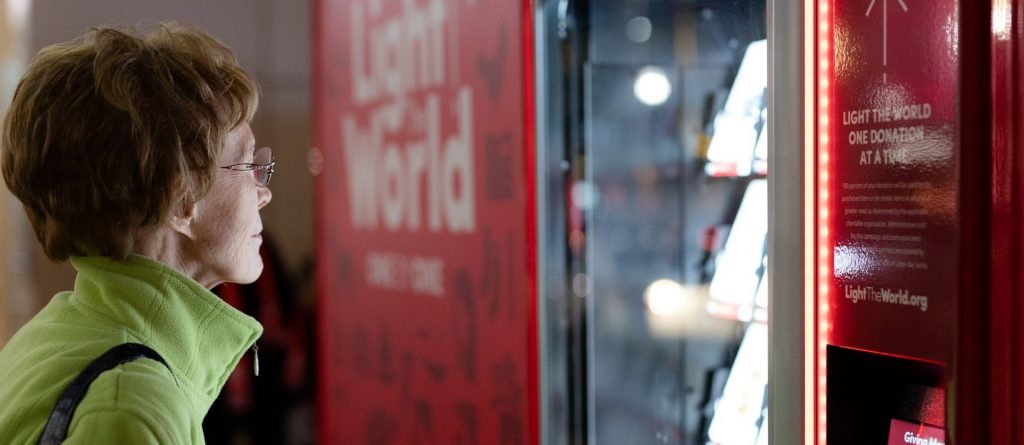 This year six charities will be featured in the Oakland Giving Machines, three global charities, and three local. They are:
Tri-Valley Haven, which serves battered women and children.
George Mark Children's House, which provides end-of-life care for children.
Emeryville Citizens Assistance Program, which provides food, household furnishings, care, and compassion to the needy.
UNICEF, which provides humanitarian and developmental aid to children worldwide.
WaterAid provides clean water, reliable toilets, and good hygiene for needy communities worldwide.
Church World Service, which provides sustainable self-help, development, disaster relief, and refugee assistance around the world.
There will be a community launch event on Saturday, November 27th at 5:00 p.m. in the large chapel at Temple Hill, 4770 Lincoln Ave, Oakland, CA 94602.