I am a Child of God
Mildred T. Pettit, Composer
12th Ward Primary Oakland East Stake, Singers
Jurrasic Park
John Williams, Composer
Calvin Custer, Arranger
Max Adams, Conductor
Mission Impossible
Lalo Schifrin, Composer
Calvin Custer, Arranger
James Bond
Monty Norman, Composer
Robert Longfeld, Arranger
Raiders' March
John Williams, Composer
Jaws Theme
John Williams, Composer
Special appearance by the Young Women of the Cordelia 2nd Ward Fairfield Stake
Lord of the Rings
Howard Shore, Composer
John Whitney, Arranger
Brooke Bush, Singer
Star Trek
Jerry Goldsmith, Composer
Bill Holcombe, Arranger
Star Wars
Main Theme
Leia's Theme
The Imperial March

John Williams, Composer
Keita Moriwaki, Conductor for The Imperial March
Superman March
John Williams, Composer
Pirates of the Caribbean
Klaus Bedelt, Composer
Ted Ricketts, Arranger
Help us reach more people who may be interested in performances at Temple Hill, share a review of your experience at tonight's concert.
Meet the Temple Hill Symphony Orchestra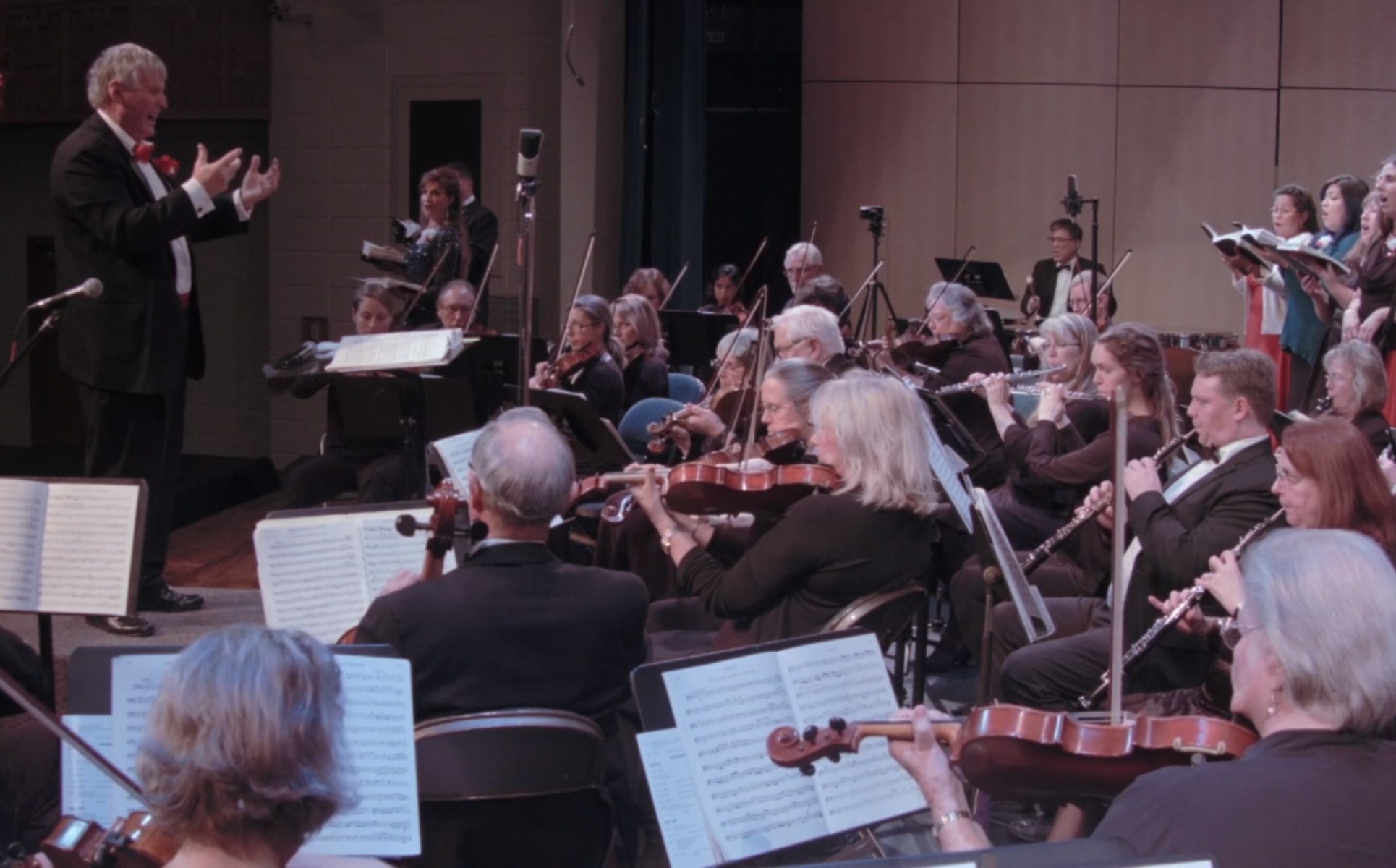 Jay Trottier, Music Director
One only needs a brief conversation or a snippet of rehearsal to recognize Jay's overwhelming passion for music. Influenced by his mother who sang in the Tabernacle Choir at Temple Square, he began piano lessons at the age of eight and pursued clarinet and oboe in high school and college. He exercised his vocal cords as Captain von Trapp in The Sound of Music and Professor Henry Higgins in My Fair Lady, as well as serving as music director of The Music Man in community productions. Jay founded and conducted the Solano Community Symphony 30 years ago, and began directing the Temple Hill Symphony Orchestra in 2012. Though he has been instructed by Robert Lenz, assistant director of the Utah Symphony, and Denis de Coteau, director of the San Francisco Ballet, his greatest teacher has been his heart – he simply feels music!
Jay and his wife Becky are parents of four children, and live in Fairfield, California.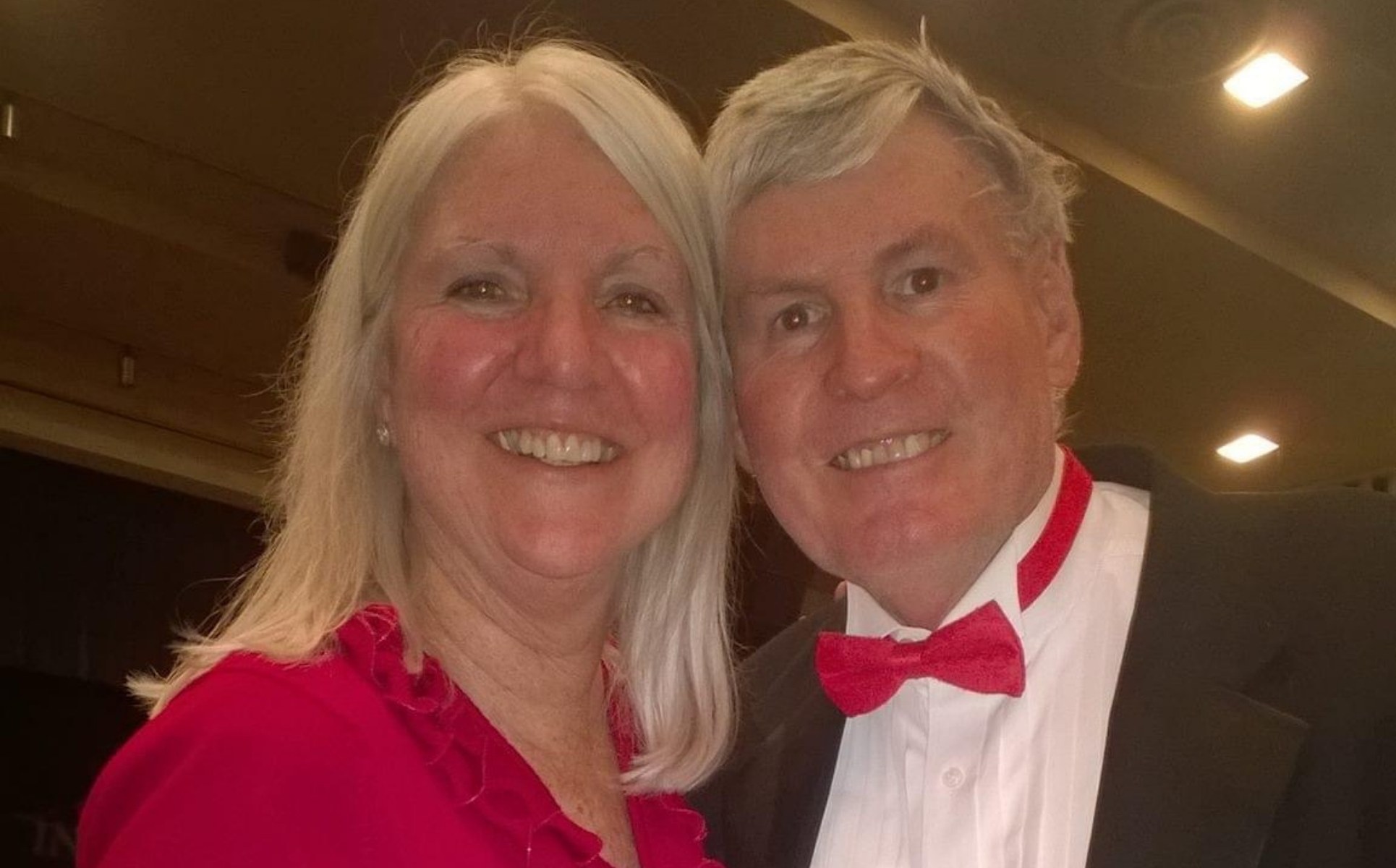 Temple Hill Symphony Orchestra Members
MUSIC DIRECTOR
Jay Trottier
ASSISTANT CONDUCTOR
Max Adams
VIOLIN I
Cybele D'Ambrosio,
Concertmistress
Peggy Jellinghausen,
Assoc. Concertmistress
Douglas Morrison
Keita Moriwaki
Helen Duncan
Niki Nakamura
Arthur Jue
VIOLIN II
Trevor Barrus*
Linda Pedersen
LaNaudia Lindoerfer
Hannah Stanford
Sophie Koval
Ed Walker
VIOLA
Liz Hare*
Goody Choi
Belen Langarica
CELLO
Max Adams*
Daniel Brown
Paulina Haskin
Ted Kolda
BASS
Tim Neff*
PICCOLO
Cyndi Chancellor*
FLUTE
Melissa Gulamhussein*
Sharon Young
CLARINET
Ron Jarvis*
Madeleine Lemos
Brinly Nearon
BASS CLARINET
Kathy Vork*
BASSOON
Michael Garvey*
Cathy Tracy
CONTRABASSOON
Lori Garvey*
OBOE
Eric Hagen*
FRENCH HORN
Ross Gershenson*
Ysabella Ballesil
Sally Johnson
Gary Crandell
Kathryn Crandell
Bob Satterford
Brian Nippa
Daniel Bao
TRUMPET
John Escalera*
Joshua Ling
Brett Klein
Ron Cohen
Sue Leonardi
TROMBONE
Dave Downer*
Megan Kennedy
TUBA
Matt Kaufman*
TIMPANI
Heather Small*
PERCUSSION
Daniel Edwards*
Heather Moore-Farley
Annette Granger
Daniel Brownlee
Ralph Granich
PIANO
Rica Van Katwyk*
HARP
Gerry Porcaro*
PERSONNEL MANAGER
Max Adams
OPERATIONS MANAGER
Dave Downer
ASSISTANT OPERATIONS MANAGER
Keita Moriwaki
TECHNICAL CREW
Paris Fox
Harold Waters
Dan Ellifson
Grant Huberty
LIBRARIAN
Linda Pedersen
*Principal
Michael Linney, President
Max Adams, Treasurer
Robert Dellenbach, Secretary
Daren Blonski
David Downer
Peggy Jellinghausen
James Nearon
Jay Trottier
Jurassic Park by John Williams arr. Calvin Custer
After a mysterious start (picture dinosaurs creeping behind you in a tropical forest), this thematic medley from 1993's Jurassic Park soon gives way to a classic, majestic John Williams theme. Rich string orchestrations are layered with woodwinds and brass as the piece builds, evoking images of monumental brontosauruses swinging their heads in the distance and beautiful natural scenery. Various rhythmically intriguing interludes do little to dampen the momentum of the piece, which builds gradually to a proud, brass-rich finale that will keep you on the edge of your seat looking for dinosaurs.
Mission Impossible by Lalo Schifrin arr. Calvin Custer
This classic film score, based on the 1995 movie, perfectly evokes a spy sneaking into a top-secret facility to save the world. If you pay close attention, you may notice some 1960s jazzy rhythms in the woodwinds as well. Feel your heartbeat rush alongside the propulsive percussion in this piece, with danger (and syncopation!) lurking around every corner.
James Bond by Monty Norman arr. Robert Longfeld, 1962
Another classic spy thriller, James Bond will have you tapping your foot along with the strings in its well-known opening theme. Jazzy swing rhythms soon take over and you'll surely shimmy your shoulders along with the music as you picture a suave Bond, James Bond saving the world all while ordering a cocktail, shaken, not stirred.
Raiders' March by John Williams
Few cinematic musical themes carry such cultural moments as the pieces in Indiana Jones. First released in 1981, this suite begins with a classic musical march. Percussion and blaring brass themes will have you stomping your feet alongside Indiana on his way to keep archeological weapons out of the hands of dastardly foes. Soon, though, the march gives way to luscious cello themes which give listeners a rest from the action… before plunging right back in for an invigorating finale.
Suite from Jaws by John Williams
Almost nobody who hears Jaws can help but feel a thrill of fear rush up their spine when those low, opening notes in the cello and contrabassoon first strike. Although it starts slow and soft, mirroring the heartbeat of an enormous shark on the hunt, the pulse gradually increases in tempo and volume. The slow, tantalizing build, all underlaid by a maddening two-note theme will keep you looking over your shoulder for danger.
The Lord of the Rings by Howard Shore arr. John Whitney
The Lord of the Rings brings elements of mainstream classical music with movie music together in a unique and skillful way. Alternatingly quiet and thundering, soft and harsh, fun and majestic, this medley touches on everything from hobbits wandering the Shire to orcs rushing into battle. Another uncommon element of this piece is the use of vocals–pay attention to the beautiful elven vocal theme partway through the piece as you picture the scenes of Tolkien's Middle Earth.
Star Trek by Jerry Goldsmith arr. Bill Holcombe
Although Star Trek's theme is less well-known than its phonetically similar cousin, Star Wars, it predates it by nearly a decade. First released in 1966, the Star Trek TV show and its music introduced many Americans and fans worldwide to the world of sci-fi, building on the concurrent space craze of the 1960s and boldly going where no human has gone before.
Star Wars by John Williams
Star Wars is perhaps the best-known of all film music and it is not a stretch to say that the compelling musical theme Williams introduces plays no small part in the success of the Star Wars franchise. As with many things Williams, the Main Theme starts with an iconic fusillade from the trumpets. The brass soon gives way to strings, but not for long. After an uncertain transition, we reach a classic march akin to what we previously heard in Raiders before reaching a drum-rolling ending. Next up is Leia's Theme, which presents a strong contrast, starting with a mysterious woodwind intro before giving way to the yearning main theme from the horns. Gentle flute and string melodies abound in this lushly orchestrated theme. Finishing this suite with a bang is the paradigmatic Imperial March. Little needs to be said about this snare- and brass-heavy march. The only commentary you need is to picture Vader walking unhurriedly through a massive star destroyer, on his way to solidify the full power of the Empire in a galaxy far, far away.
Superman March by John Williams
Williams strikes again with another march, this time for Superman. Perhaps one of the brightest and most idealistic works in the Williams canon (and that's saying something!), the Superman March starts with a bold brass theme before giving way to a catchy string rhythm that builds from the cellos up through the rest of the strings before turning the keys back over to the trumpets, trombones, and horns. The work is characterized by intriguing rhythms and an indefatigable optimism that evokes all that is simple and super in the world.
Pirates of the Caribbean by Klaus Bedelt arr. Ted Ricketts
Pirates of the Caribbean starts with an understatement–picture Jack Sparrow making a sly-but-jaunty entrance to some Caribbean town, with Jack voiced by a solo cello. The understatement quickly departs, though, and soon we catch a glimpse of the syncopated string rhythms that make this piece so compelling. Eventually, the snare drum drops in, leading us to rousing themes that will leave you rushing in search of a ship to the high seas. This compelling, energetic piece gives little rest (barring a couple of sea shanty-esque melodic interludes) until the thrilling main theme finishes the piece all too early.
Support Temple Hill Music
Help us keep the music alive on Temple Hill! Your contribution helps us continue providing concerts filled with your favorite music to the Bay Area community. How you can help:
Sponsor an Artist
Sponsor a Chair
Include the Orchestra in your Will
Donate at the concert or by mail*
Come play with us!
*To make a tax-deductible donation, make your check payable to THSO and drop it in the donation box in the foyer or mail to:
Temple Hill Symphony Orchestra,
P.O. Box 1861, Orinda, CA 94563.
Phone: 510-903-9252; Email: [email protected]
Temple Hill Symphony Orchestra Inc. is a 501(c)(3) tax exempt non-profit organization.
Special Thanks to  Past Donors
Platinum Level Donors ($1,000 and above)
Doug & Mary Bodily, Lila Bringhurst, Richard & Doreen Kopf, Darryl & Jana Rains, Borgas & Jeanne Solnordal, and Jay & Becky Trottier.
Gold Level Donors ($200-$999)
Randy & Zenda Benning, Ann Binning, Daren & Shae Blonski, Dan & Wendy Brinton, Greg & Cirila Call, Stuart & Evelyn Candland, Adam & Cynthia Christensen, Dean & Nancy Criddle, Elizabeth Durkin, Christian & Karen Hardy, Ted & Heidi Harris, Thomas & Cherlyn Hart, Dennis Haymore, Scott Hicken DDS & Jenette Hicken, Mike & Annette Linney, Cynthia Miller-Pfaff, Richard & Lindy Palfreyman, Mandi Palfreyman, Lee & Ann Sorenson, Larry Vollintine, Walter Wanberg, Brett & Esther Ward, Daniel & Julie Wright, and Paul & Virginia Wright.
Silver Level Donors ($100-$199)
Enoch & Marge Bell, Keith & Janet Brimhall, Richard & Louise Brower, Espen & Sumire Dahlen, Marian Gray, Lois Huntoon, Richard Jergensen, Rulon & Cecile Linford, Robin Mickle, Willis Peterson, Ralph & Sue Severson, and Joan Sorensen.
Next From Temple Hill Symphony Orchestra