La Vista De La Bahía
This article was contributed by a local member of The Church of Jesus Christ of Latter-day Saints. The views expressed may not represent the views and positions of The Church of Jesus Christ of Latter-day Saints. For the Church's official site, visit churchofjesuschrist.org.
Cuando los árboles de acacia a lo largo de la autopista 13 que pasa a través de Oakland, California se vuelven amarillos, es un buen momento para tomar el desvío de Joaquin Miller para ver las vistas y los colores de miles de flores en los jardines del Templo de la Iglesia de Jesucristo de de los Santos de los Últimos Días. (Mormones) en Oakland, CA.
Al pasar por las fuentesy la variedad de cientos de tulipanes, puede entrar por las puertas de entrada del templo, donde pasará por la piscina de reflexión pacífica. Si va a la parte de atrás y toma las gradas a la derecha, llegará a los jardines de la azotea.
Los jardines de la azotea son un lugar para contemplar la bahía, reflexionar y estar en paz. En los jardines de la azotea se puede escuchar solo el susurro del viento desde las copas de los árboles. Puede sentarse tranquilamente en los bancos y mirar los cinco puentes de la bahía. Al Oeste se pueden ver las ciudades de Oakland, el puente de La Bahía, la bella cuidad de San Francisco y el hermoso puente Golden Gate. Si tiene suerte, es posible que vea enormes barcos de carga de todo el mundo esperando en la bahía para ser descargados. Al atardecer, puede ver cómo se encienden las luces en el inmaculado puente de la bahía y la encantadora puesta del sol.
Los niños también son bienvenidos. Después de todo, de eso se trata el templo: familias. Un matrimonio celebrado en el templo no es un matrimonio hasta que la muerte nos separe de nuestros seres queridos, sino un matrimonio que nos unirá eternamente con nuestro cónyuge e hijos.
Los jardines de la azotea ofrecen una vista de 360 grados: al Oeste, la bahía; al Este, las colinas. En los lados Norte y Sur, verá paneles en el templo que representan a Cristo enseñando a la gente. En el lado Norte está Cristo con el pueblo de Jerusalén, en el lado Sur está Cristo después de su resurrección, enseñando a sus "otras ovejas", en un pueblo en las Américas como se describe en El Libro de Mormón
Durante la construcción del templo, los trabajadores que tuvieron que levantar y sujetar los pesados e inmensos paneles de granito al templo dijeron que tendrían que perforarlos para poder levantarlos, pero el artista que hizo los paneles dijo que no permitiría que perforen agujeros en ellos. Glen Nielsen, el contratista del granito, oró muchas veces para saber cómo colocar los paneles sin dañarlos. Un domingo, justo antes de que los paneles tuvieran que ser colocados, mientras Nielson estaba sentado en la clase de la escuela dominical de su hija, vió en su mente exactamente como se colocarían los paneles y cada detalle. Dijo: "Fue tan claro para mí como si mirara a alguien cara a cara."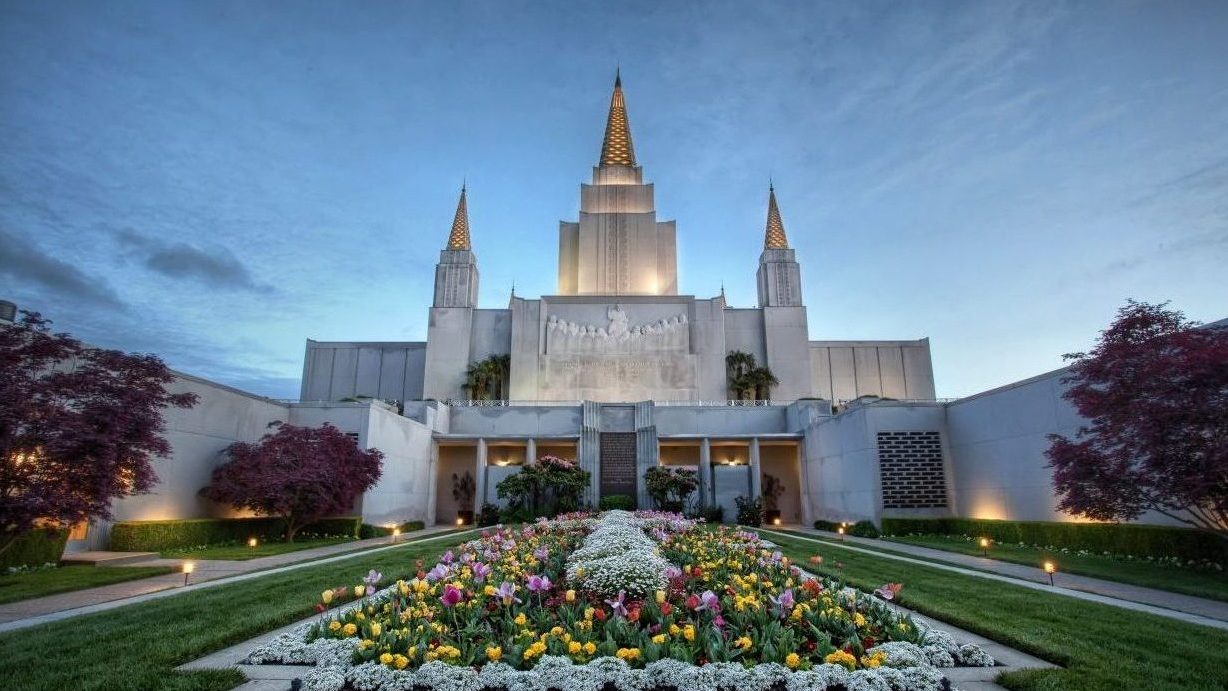 Ahora, 56 años después de la finalización del templo, los paneles, los jardines, las fuentes y las piscinas ofrecen belleza y paz a todos los que lo visitan.