The Oakland Temple Visitor Center offers a wide variety of art to explore. We hold over 20 different pieces to observe and experience. Each painting is unique and important in it's own way. Many of the artists are local to the California Area, and their pieces were chosen specifically to invite others to come closer to Christ at the Oakland Visitor Center.
Though our art is often overlooked, we are proud of our collection and desire to display it for all visitors. We hope to share stories of our beliefs and history through art. You can learn the meaning, and symbolism behind each one of these masterpieces by visiting today.  For further information, our friendly missionaries will be more than happy to assist.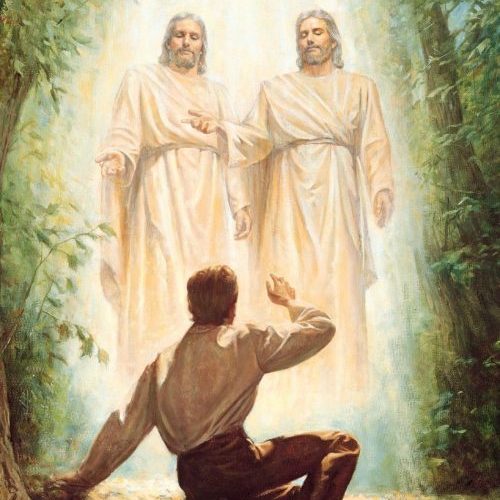 The First Vision By Del Parson
The First Vision reflects the experience of the boy prophet, Joseph Smith, and his encounter with God the father, and his son Jesus Christ:
Joseph was always interested in the topic of religion, and was seeking to know which of the churches were true. In the midst of his search, he came across a passage in The King James Bible, James 1:5, "If any of you lack wisdom, let him ask of God, that giveth to all men liberally, and upbraideth not; and it shall be given him." Joseph was inspired by the verse to and did as James directs, to pray.
It was in the woods on a beautiful April day when Joseph kneeled down and uttered his first vocal prayed. God the Father and his son, Jesus Christ, appeared to Joseph and started an event known amongst members of the church of Jesus Christ of Latter-Day Saints as The Restoration.
The Oakland Temple By Al Rounds
"The Oakland Temple is quite meaningful to me as I was a young boy growing up in the San Francisco Bay area in a little town called Walnut Creek just outside of Oakland.  Oakland was our stake center so we went from Walnut Creek through the Caldecott tunnel and into the San Francisco Bay area for our stake conferences or anything else that was happening.
"When I went about doing this painting, I actually did it for my father, but I did it for me in the sense that I wanted the weather and setting to be just like I remembered that area always being.  So I didn't choose a sunny bright day like you would think I would have chosen.  I chose a semi-foggy day just as the fog was lifting."
– Al Rounds
Christ and Children from Around the World
by Del Parson
"The church commissioned the painting and I used my son, a friend from his soccer team, one of his classmates, and a ward member to pose for this painting.
One of the girls said she still remembers posing for the painting, and that as a very young girl, it was a spiritual experience.  The other girl says she has felt closer to Christ, and has realized what a unique experience it has been — one that not many people have ever experienced.  She says she is in awe realizing that the painting is known worldwide, sending out the message that Christ lives.  She says no one believes that it is really her in the painting.
Not long after I finished the painting, my family came with me to meet with a member of the General Primary.  There in the lobby hung a copy of the painting, and right under the painting was a couch where my son, who had modeled for the painting, was sitting patiently — hoping that somebody would notice that he was the boy in the picture."
– Del Parson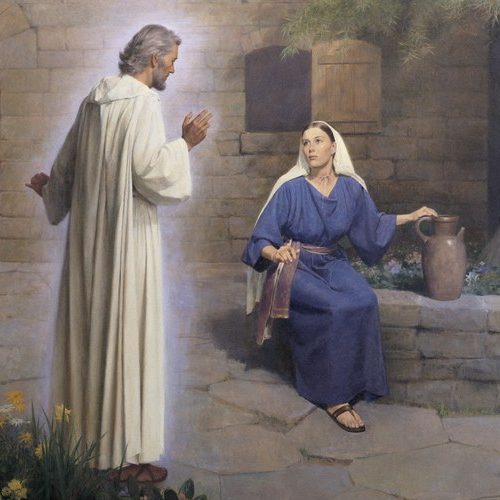 The Annunciation
by John Scottn
The Annunciation conveys the experience that Mary, the mother of Jesus, had with the angel Gabriel. this depicts when he announces the birth of Jesus Christ to his mother.
"And in the sixth month the angel Gabriel was sent from God unto a city of Galilee, named Nazareth, to a virgin espoused to a man whose name was Joseph, of the house of David; and the virgin's name was Mary.  And the angel came in unto her and said, Hail, thou that art highly favoured, the Lord is with thee: blessed art thou among women. And when she saw him, she was troubled at his saying, and cast in her mind what manner of salutation this should be.  And the angel said unto her, Fear not, Mary: for thou has found favour with God." (Luke 1:26-30).
Jesus Shows His Wounds by Harry Anderson
Jesus Shows His Wounds depicts the scene of after the resurrection of Christ when he appears to his Apostles. They were afraid because they thought that he was a spirit until Jesus showed them his wounds that he received on the cross. He also partakes fish and honey with them as they celebrate the resurrected Christ.
Anderson was a Chicago-born artist, and though he is known widely by The Church of Jesus Christ of Latter-Day Saints, he is actually a Seventh-day Adventist. He has found healing in illustrating paintings  for The Church of Jesus Christ of Latter-Day Saints.
Sermon on the Mount
By Harry Anderson
The Sermon of the Mount is a prominent speech given in the Bible from Jesus to his followers, (Mathew 5-7). In this well quoted scripture, Christ challenged his followers to live in a higher manner or morality. He taught what is commonly known as the "beatitudes" which are different blessings to people who live in a certain pattern: "Blessed are the poor in spirit: for theirs is the kingdom of heaven." … "Blessed are they that mourn: for they shall be comforted." … "Blessed are the meek: for they shall inherit the earth." … "Blessed are they which do hunger and thirst after righteousness: for they shall be filled" (Matt 5:3–6). He also instructed that it is important to not only love your friend, but also your enemy. After Christ's teachings, his followers were shocked by how he taught with such power and authority.
Christ Visits The Americas By John Scott
In the Book of Mormon,  It is written that Christ visited the Americas. Before his appearance, The Americas were filled with earthquakes and many natural disasters. These disasters were signs of Christ's coming. In this beautiful painting Scott Illustrates the moment when Christ appears to the people and shows his wounds from the cross. Christ later blesses all of their sick, afflicted, and children. In this portrait Scott tries to show the hope and peace that come with a visitation of Christ, and how he can heal after the storms and earthquakes.
Moroni Buries the Plates By Tom Lovell
Moroni is a Prophet and final author in The Book of Mormon. While in a terrible war Mormon, the father of Moroni, gathered all of the sacred records from their country and compiled it into the plates which are depicted in the painting. Mormon was later destroyed in this war, and Moroni was the last remaining person of his country. He took the plates which his father wrote, and added a few chapters before burying them in the ground, so the warring country would not destroy them. These plates were later found by Joseph Smith and are now known as The Book of Mormon. Lovell shows Moroni as he prayerfully buries the sacred records.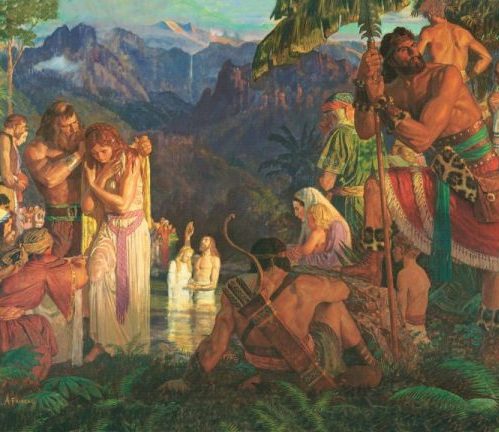 Alma Baptizes in the Waters of Mormon By Arnold Frieberb
This painting was based off of a story in The Book of Mormon. The people depicted are escaping their corrupted city and fleeing to a hidden fountain, the Waters of Mormon, for religious freedom.  This is where the prophet Alma is baptizing and preaching. Alma taught about faith and repentance, and explained what it means to be baptized, " To mourn with those that mourn; yea, and comfort those that stand in need of comfort, and to stand as witnesses of God at all times and in all things, and in all places that ye may be in, even until death, that ye may be redeemed of God, and be numbered with those of the first resurrection, that ye may have eternal life," (Alma 18:9). Those who accepted those conditions were baptized by Alma.
Mary and Martha By Del Parson
Parson captures the story from the Bible of Mary and Martha in this elegant painting. Mary and Martha, the two women, are hosting Jesus at their home. Martha gets upset because instead of helping with the house work, Mary is sitting and listening to Jesus. In return, Christ tells Martha  that he understood her concern, but that it was wise for Mary was to listen to his teachings.
Triumphal Entry by Harry Anderson
Jesus rode a humble donkey as he gloriously entered into Jerusalem.  This event was latter referred to as Palm Sunday, because the locals greeted Jesus by waving palm branches (which is symbolic of triumph or victory). It is also noticeable that Jesus is riding a donkey, which is symbolic of peace. This event is marvelous because it is one of the few times that Jesus is openly received in Jerusalem, but it also is used to foreshadow his death and resurrection  which he would soon face.
John Baptizing Jesus By Harry Anderson
Though Jesus was perfect and had no sin, he needed to be baptized. He set the example for all mankind to enter into the waters of baptism, and holds the invitation to all to follow his footsteps.
"Then cometh Jesus from Galilee to Jordan unto John, to be baptized of him.  But John forbad him, saying, "I have need to be baptized of thee, and comest thou to me?".  And Jesus answering said unto him, "Suffer it to be so now: for thus it becometh us to fulfil all righteousness".  Then he suffered him.  And Jesus, when he was baptized, went up straightway out of the water: and, lo, the heavens were opened unto him, and he saw the Spirit of God descending like a dove, and lighting upon him: And lo a voice from heaven, saying, "This is my beloved Son, in whom I am well pleased" (Matthew 3:13-17).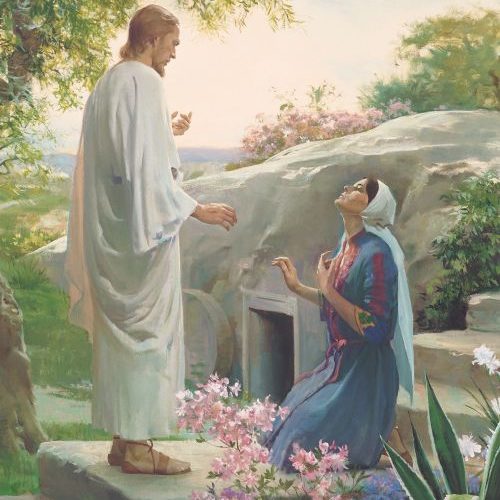 Mary and the Resurrected Lord
by Harry Anderson
Three days after the death of Jesus, Mary Magdalene went to dress his body. After finding his tomb empty and making it known she started weeping. Jesus was standing nearby and Mary mistook him as the gardener as he asked why she was crying. She replied,"Sir, if thou have borne him hence, tell me where thou hast laid him, and I will take him away" (John 20:15).  Then Jesus responded, "Mary."  Mary then recognized him and cried, "Rabboni," which means Master. (John 20:16.)
Jesus Praying in Gethsemane by Harry Anderson
Jesus was in heavy spirits as he approached the Garden of Gethsemane, he seemed to know about what was about to take place. He knew he was going to suffer greatly as he atoned for the sins of the world.
While in the Garden he walked a little ways from his friends, who have fallen asleep, and he prayed, "O my Father, if it be possible, let this cup pass from me: nevertheless not as I will, but as thou wilt" (Matthew 26:39).   An angel from heaven appeared to Jesus, "strengthening him.  And being in an agony he prayed more earnestly: and his sweat was as it were great drops of blood falling down to the ground" (Luke 22:43–44).  It was within this earnest prayer that Christ started suffering an Atonement for all of the world and its sins. Anderson captures that moment in this painting.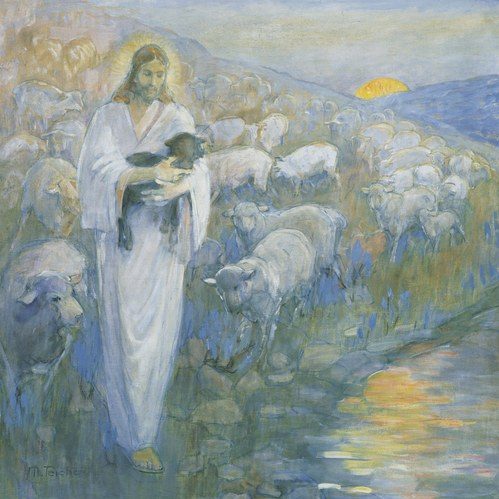 Rescue of the Lost Lamb by Minerva Teichert
The Savior's words echo from the New Testament:  "How think ye?  If a man have an hundred sheep, and one of them be gone astray, doth he not leave the ninety and nine, and goeth into the mountains, and seeketh that which is gone astray?  And if it so be that he find it, verily I say unto you, he rejoiceth more of that sheep, than of the ninety and nine which went not astray."
The Savior gently holds a lamb that has gone astray. The lambs face is buried in the Savior's loving arms. This symbolizes that we are all like the lost sheep returning to the Savior.
Road to Bethlehem By Joseph Brickey
"As a foreshadowing of His future triumphal entry into Jerusalem as the Son of David and the King of Israel, the unborn Christ is carried by a donkey to be numbered of the house and lineage of David. Mary looks tenderly, perhaps knowingly, at the shy shepherd boy they pass along their way. Joseph's focus is on the path ahead, and his hands, one opened and one closed, reflect both the strength and gentleness of the provider and the protector."
– Joseph Brickey