Vocal Point: Finding Meaning in Music Throughout the Years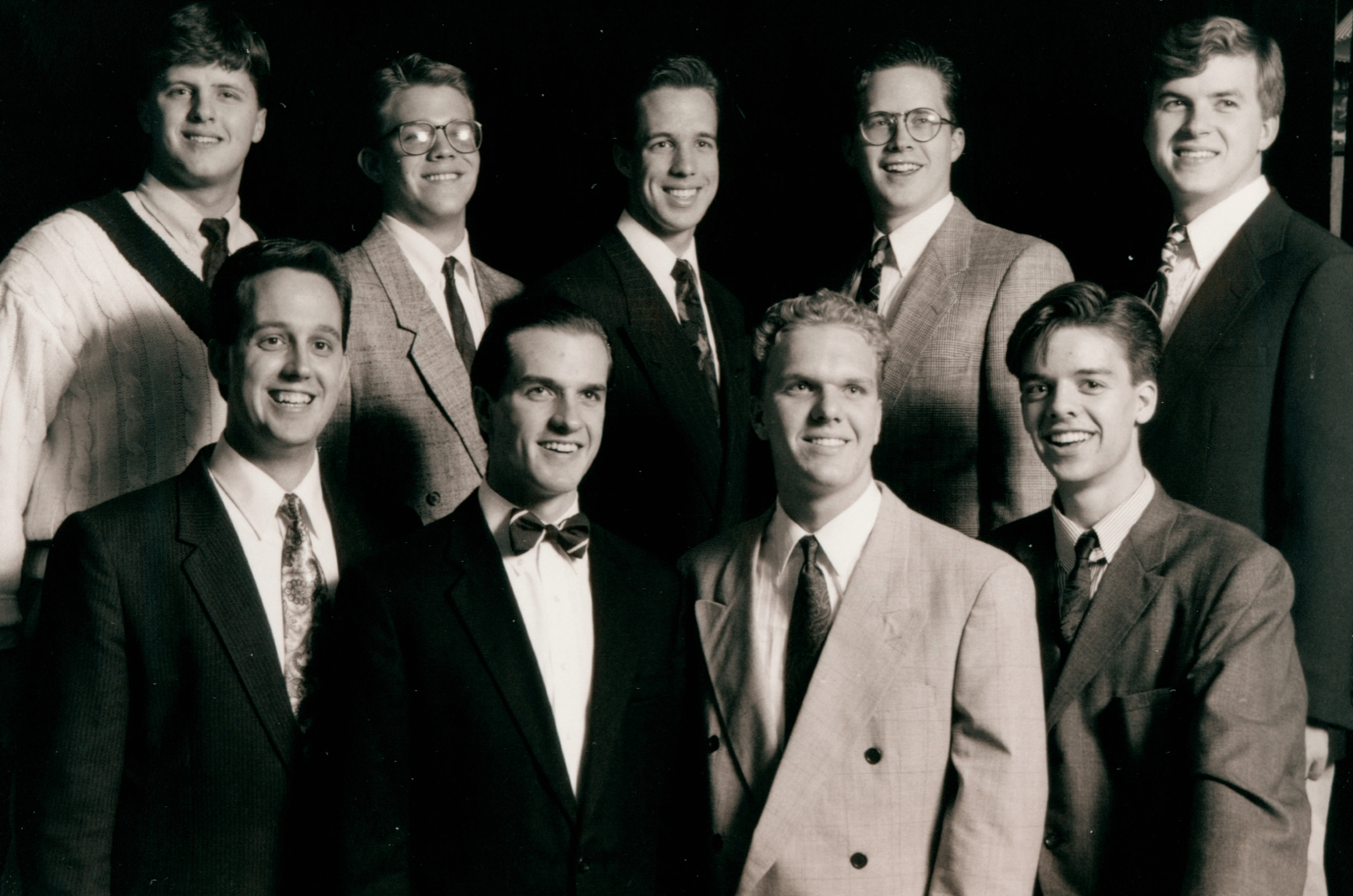 This article was contributed by a local member of The Church of Jesus Christ of Latter-day Saints. The views expressed may not represent the views and positions of The Church of Jesus Christ of Latter-day Saints. For the Church's official site, visit churchofjesuschrist.org.
By Capri Garff
Come see BYU Vocal Point at Temple Hill in February! Find tickets and more information ここに.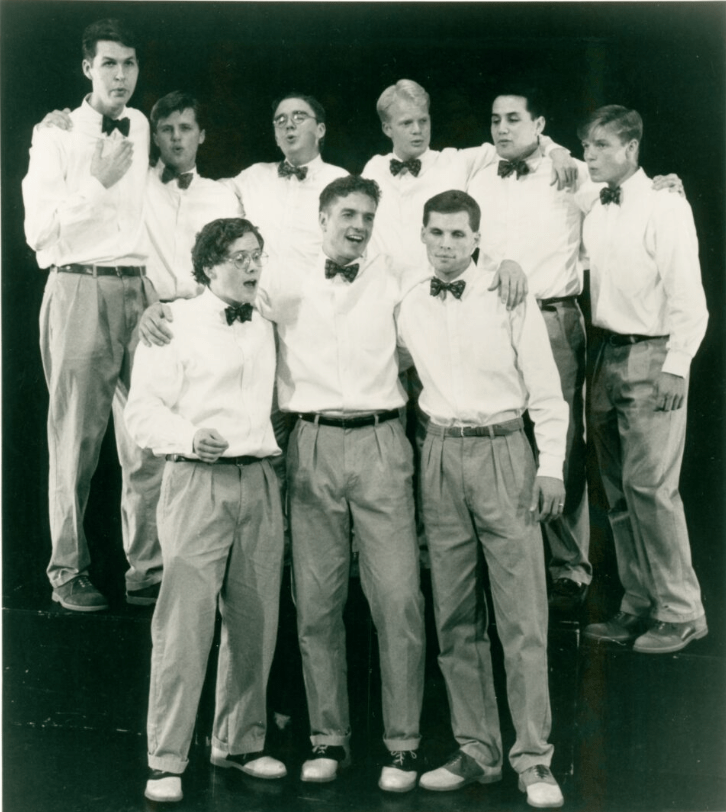 The original Vocal Point group stands together. Vocal Point was first started in 1991. (Dave Boyce)
The Background
Vocal Point has performed across the world, sung with famous musicians and has continued to grow in popularity since its creation in 1991.
Dave Boyce and Bob Ahlander were the masterminds behind the men's a cappella group. Boyce said the two had participated in their high school choir in Oklahoma and always shared a love for music. It was in college, after Boyce transferred from the University of Texas to BYU, when Ahlander introduced him to the a cappella group Take 6.
The boys had begun rooming together and were listening to styles like barbershop and jazz. Ahlander suggested the two start a group like Take 6. "I'm like, 'You are out of your mind. That is way too hard,'" Boyce said.
Boyce explained they did end up writing a few two-part songs and would use them on dates to impress girls. He became more exposed to a cappella music during his internship in Connecticut. One weekend, he saw a 12-man a cappella group in downtown Boston singing "For the Longest Time" by Billy Joel and the surrounding crowd threw money at their feet.
Dave Boyce (left) and Bob Ahlander (right) sit singing. The two are the founders of Vocal Point. (Dave Boyce)
Boyce recognized the song as being an easy one. "So I call Bob and I'm like, 'OK, that's a collegiate group. We can do that.'" From there, Boyce began his homework visiting and researching a cappella groups at Harvard and Yale, like the Whiffenpoofs.
The Building
Following the internship, Boyce returned home and spoke with Ahlander seriously about beginning the group, but they recognized they would need to start after the upcoming summer.
Boyce returned to the East Coast for another internship and in the meantime, continued to learn about a cappella. He and Ahlander decided that they wanted the sense of tradition and alumni community that many of the groups had, yet wanted to be changing continuously.
In fall of 1991, Boyce and Ahlander were ready to hold auditions. The problem – nobody knew them or what they were trying to accomplish. They made a cassette tape with a dozen songs on it that captured what they were going for and left it on their doorstep for people to check out and return.
Vocal Point poses for a picture with Jill Petersen-Lex (left). She helped with the formation of Vocal Point. (Dave Boyce)
Boyce and Ahlander were a part of BYU's Men's Chorus at the time, which was under the direction of Mack Wilberg, who now directs The Tabernacle Choir at Temple Square. Wilberg allowed them to hand out flyers to Men's Chorus and ended up having a great deal of people try out.
Since Boyce and Ahlander had no experience conducting auditions, Jill Petersen-Lex, Boyce's sister's roommate, stepped in, becoming the third founder, according to Vocal Point's website. After cutting down the auditions to just nine men, it was Wilberg who suggested they keep it that way.
"(Wilberg) said, 'You know, it wouldn't be the worst thing to have nine voices, because it might break you out of the normal eight, octet mold,'" Boyce said, and that was that.
Dave Boyce and Bob Ahlander wrote up a flier for Vocal Point auditions. The group formed soon after. (Dave Boyce)
The Beginning
At the first rehearsal, Boyce recalled being very impressed as people improvised parts and made up their own arrangements. He and Ahlander were pleased with the nine and had big ambitions. They wanted the a cappella group to be a 100-year tradition and so far, they are on track.
Periodically, the nine would gather for more business-like meetings to discuss various issues. During one of those first meetings, a brainstorming session took place for their official name. "If Rocks Could Sing" took the cake for a week's time, but the name did not sit right with some of the guys.
The runner-up title "Vocal Point" was then promoted to be their name and "If Rocks Could Sing" became their first album's title. Vocal Point was born.
From here, Boyce and Ahlander wanted to grow the group and did just that. After a great deal of self-promotion, the first performance was a packed house.
The Impact
Since that first concert, Vocal Point has continued to grow in popularity, with over 52,800 インスタグラム followers. McKay Crockett, an Emmy award-winning music director, producer, arranger and Vocal Point's current artistic director, originally sang in the group from 2008 to 2012.
McKay Crockett, the current artistic director, sings center stage on "The Sing-Off" during his time as a Vocal Point member. The group placed in the top 5. (BYU Vocal Point website from Lewis Jacobs at NBC)
It was during this time that Vocal Point was invited in 2011 to compete on "The Sing-Off" and placed in the top five, the same season the Pentatonix won. Crockett has lead the group for the past 11 years and continues to do so today. He attributes joining the a cappella squad to James Stevens, who preceded him as artistic director.
It was Stevens, an old family friend, who encouraged Crockett to try out. Despite being sick for tryouts, having Stevens vouch for Crockett proved to him that God cares about Vocal Point.
"Vocal Point became such a huge part of my life," Crockett said. "Just a further testament that Heavenly Father has His hand in everything, because it worked out the way that it did."
Vocal Point performs in a recent concert in November 2022 at the Covey Center for the Arts. The group performs worldwide. (Capri Garff)
Stevens' thoughts aligned with Crockets. Reflecting on his time singing in and directing Vocal Point, similar to Crockett, he said he has learned a great deal about faith and hope from the group and that his involvement has significantly defined a great deal of his life.
"I believe Vocal Point has a unique mission that connects with people on a fundamental level and in a way that's only accessible through familiar music shared in a unique way," Stevens said. "Through this medium they are able to break down barriers and build a kind of trust that surpasses cultural, societal and even religious differences and allows them to find common ground that can unite us to a higher purpose."
で全文を読む The Daily Universe.