2세대 개척자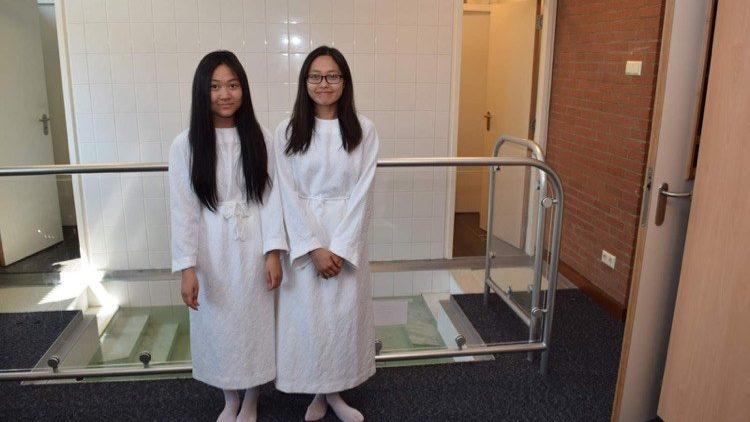 This article was contributed by a local member of The Church of Jesus Christ of Latter-day Saints. The views expressed may not represent the views and positions of The Church of Jesus Christ of Latter-day Saints. For the Church's official site, visit churchofjesuschrist.org.
작성자: Yenny Mo, 원래 중국어
중국어에서 개척자라는 단어는 xiān과 qū의 두 가지 주요 문자로 구성됩니다. xiān의 의미는 "앞에"이고 qū는 "갤럽으로 말을 타다"입니다. 질주하는 말을 타는 것과 마찬가지로 xiān qū zhě는 먼저 용감하게 앞으로 나아가고 모든 힘을 다해 다른 사람들에게 새로운 길을 열어주는 사람을 말합니다.
This is the same for the pioneers of the Church of Jesus Christ of Latter-day Saints. Joseph Smith was the first prophet after the restoration of Christ's Church. In the spring of 1820, he sincerely asked God with great faith which church he should join. He then saw Heavenly Father and Jesus Christ, whose light was above the brightness of the sun, and they answered his question that he should join none of them. Joseph was called to restore the original Church of Jesus Christ so that people on Earth will have the opportunity to know the living God and know how to obtain eternal blessings. Because of this great mission, he suffered immense ridicule, persecution, temptation, and heartache. After all of these trials, he was martyred.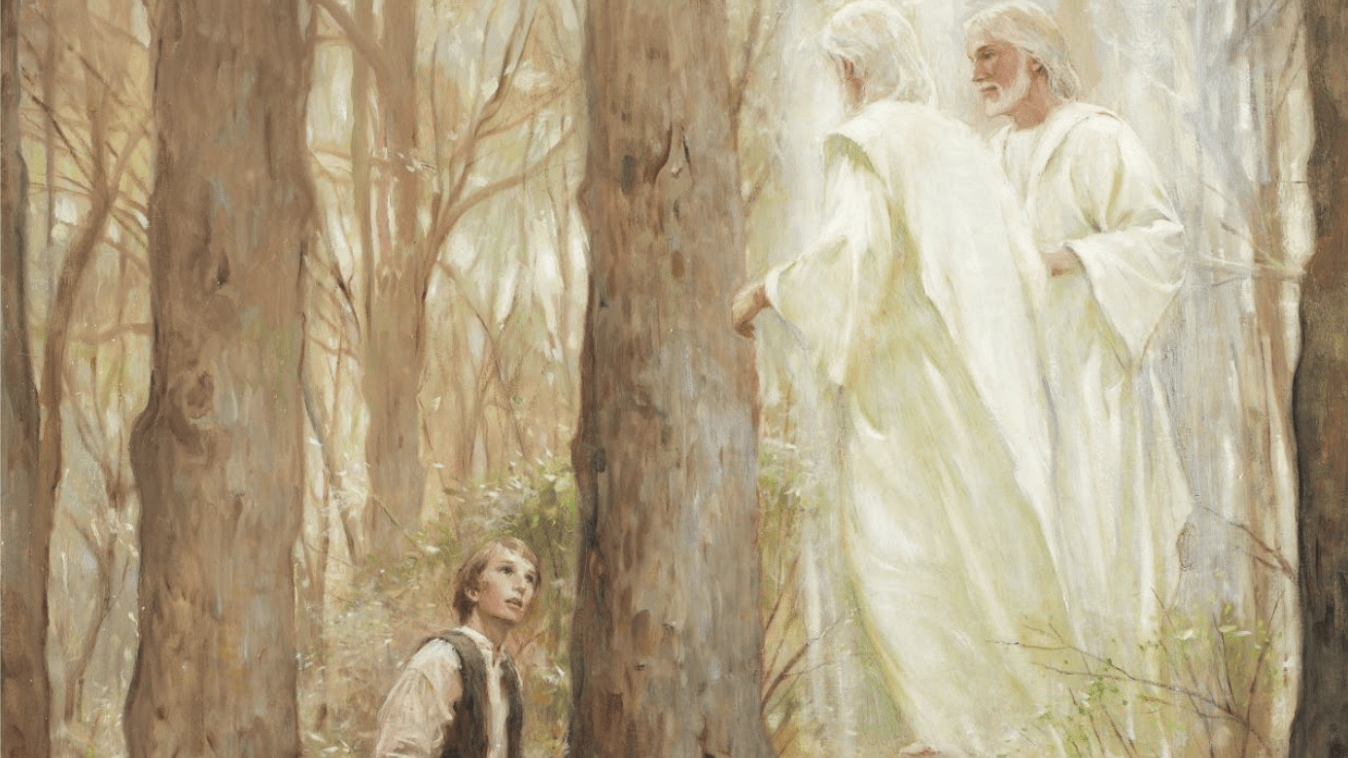 Early saints of the Church were called to bring to pass the will of God. "Ye are called to bring to pass the gathering of mine elect; for mine elect hear my voice and harden not their hearts…Wherefore the decree hath gone forth from the Father that they shall be gathered in unto one place upon the face of this land." (Doctrine and Covenants 29:7-8). Thousands of converts decided to give up everything they had and left their homes to travel to the gathering place. The journey was hard. They suffered hunger, cold, illness, and uncertainty. They were expelled and persecuted constantly. Many sacrificed their lives in order to build Zion, to strengthen God's Church on Earth so that they and all people on Earth—past and future generations—could have the opportunity to receive eternal blessings. The state of Utah has established July 24th as the Pioneer Day to commemorate their heroic effort and sacrifice.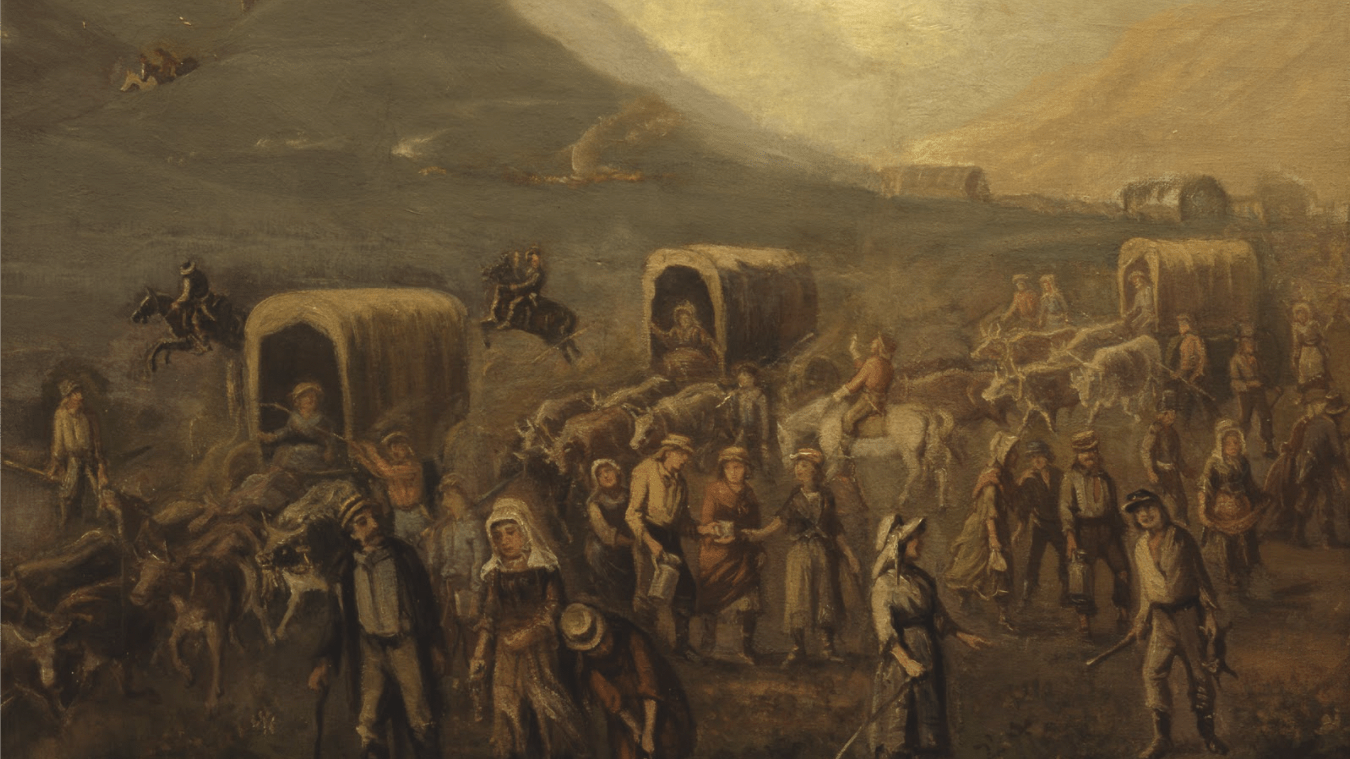 However, the word pioneer doesn't just apply to those who crossed the plains. There are pioneers from every era of time. Adam and Eve were the first human beings on Earth. Vincent Van Gogh was a pioneer of expressionism in the 20th century. Howard Reingold pioneered the development of virtual communities. We can be pioneers within our own families. I would like to share the experiences of two generations of pioneers in the Mo family.
아버지는 중국 광둥성의 한 마을에서 태어났습니다. 19세에 군에 입대했다. 3년 뒤 고향으로 돌아와 체육교사가 되어 어머니를 만났다. 그 동안 우리 가족은 가난하게 살았습니다. 그러다가 1984년 사촌의 도움으로 베네수엘라에 갈 기회가 주어졌고 여행 경비와 여행 서류 비용을 충당하기 위해 돈을 빌려주었습니다.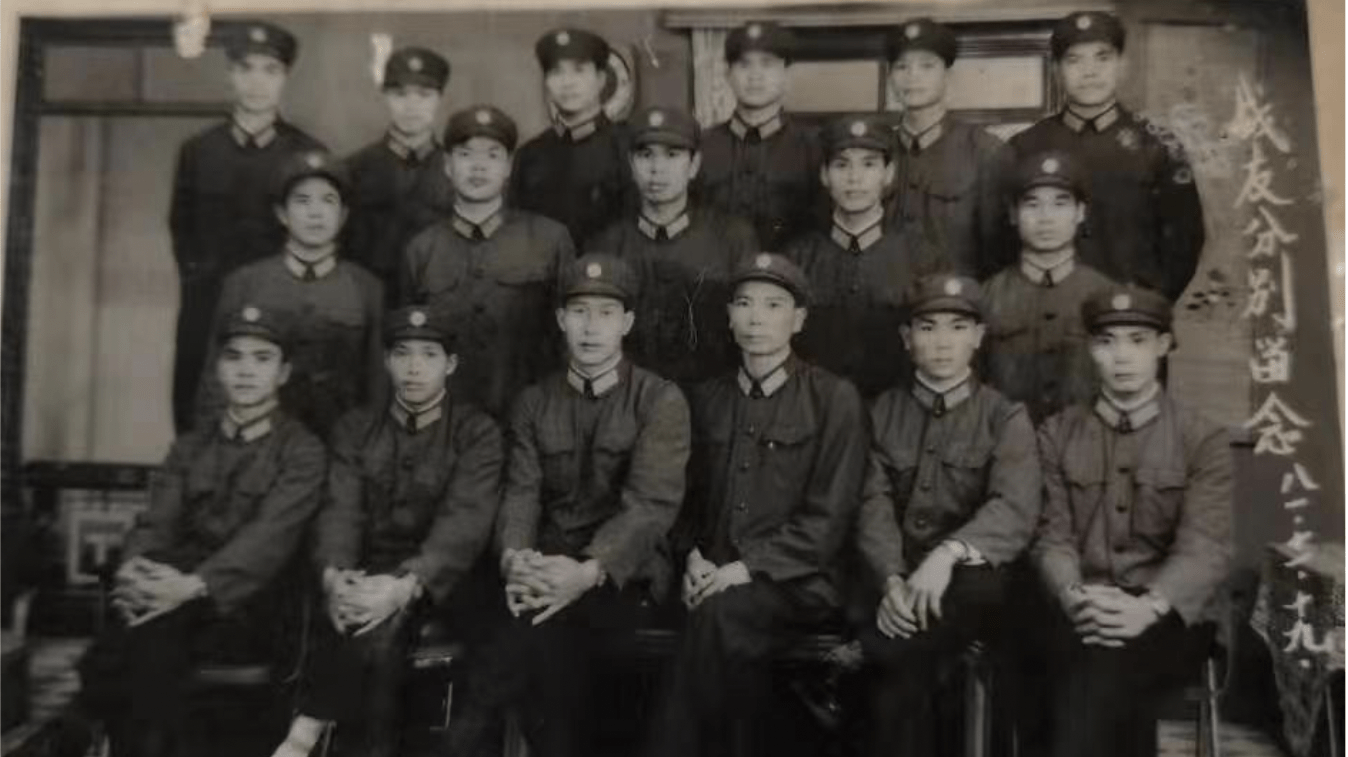 여행은 Xin Ping Village에서 Shahu Town으로 시작하여 광저우로 이동하여 다음날 아침까지 친구 집에서 하룻밤을 보냈습니다. 그 다음 그는 홍콩으로 가는 또 다른 기차를 탔다. 도착한 지 얼마 되지 않아 그는 중국 전통 예절에 따라 새 옷과 신발 한 켤레와 사촌을 위한 선물을 사기 위해 가진 유일한 돈을 썼습니다. 쇼핑을 마치고 드디어 파리행 비행기에 올랐다가 콜롬비아행 비행기에 올랐다. 당시 그는 돈이 없었고 영어를 한 마디도 몰랐습니다.
도착하자마자 운전기사가 그를 데리러 지정된 호텔로 데려다가 베네수엘라에 갈 수 있는 다른 교통편이 마련될 때까지 며칠을 기다렸습니다. 당시 베네수엘라 정부는 비자를 발급하지 않아 국내로 가는 길은 유난히 멀었다.
차에는 콜롬비아 사람 2명, 중국인 2명(아버지 포함), 운전사가 있었습니다. 몇 시간을 운전해 가파른 언덕을 지나자 아버지는 황량하고 울창한 큰 숲을 볼 수 있었다. 그 광경은 그에게 불길한 예감을 주었다. 하늘이 어두워지자 갑자기 운전자가 베네수엘라 국경에 가까워지고 있으므로 최대한 빨리 차에서 내려 숨어야 한다고 설명했습니다. 그는 그들을 데리러 돌아오기 전에 국경 경비대와 협상해야 했습니다. 승객들은 그의 지시에 따라 차에서 뛰어내리고 나무에 숨어 운전자가 돌아올 때까지 기다렸다. 무서운 밤이었다. 그는 이렇게 거대하고 야생의 숲과 절벽을 본 적이 없다고 말했습니다. 언제라도 호랑이, 늑대, 야수에게 잡아먹힐지 모른다는 두려움도 그를 괴롭혔다. 절벽 끝에는 바닥이 보이지 않는 심연이 있었고, 실수로 떨어지면 분명히 죽을 것 같았다. 그들이 할 수 있는 일이라고는 떨면서 차의 반환을 기다리는 것뿐이었습니다.
After more than half an hour passed, the car finally came. They got in the car, breathed a sigh of relief, and passed the border safely. The car advanced into the barren mountains and ridges. Soon the driver told them that there was one last border to pass. They had to jump out of the car again. Unfortunately, my dad happened to jump onto an unstable tree trunk. The trunk was about to break, but there was another stable tree trunk not far away from the other person who was with him. My father asked him to give him a hand as he jumped over. The other person didn't understand what he had said and didn't reach out to help, so my father got stuck and was hanging on the tree trunk. He then exerted all of his strength to climb up by himself, firmly grasping the tree trunk until he pulled himself up safely. His newly-purchased clothing was torn, and his leather shoes were broken. They endured hunger in the cold night, and waited, listening to the howling of wolves.
More than an hour had passed when the car came for them again. They jumped inside, thinking that their adventure was finally over. Not long after they got going, the driver told them to get out of the car once again and switch to another large truck full of boxes of plantains, where they would hide underneath. When my father saw the plantains, he realized that if the trestles under the boxes were to fall apart, the person underneath would surely be crushed. But they had no other option, so they went in as they were told. Other drivers and co-workers worked together to cover them up tightly with the remaining plantains. My father described that he couldn't move his hands and feet, and had difficulty breathing due to the weight and lack of oxygen. They endured this hardship until they arrived in Caracas, Venezuela. My father's cousin met him as he got off the truck and drove him to his house for a temporary stay. Finally, he could eat, change clothes, take a shower, and go to bed. He slept all day and night for about a week.
곧 그는 $8,330의 빚을 갚기 위해 공장에서 초과 근무를 하는 일자리를 얻었습니다. 그 기간 동안 그는 매달 집에 편지를 써서 가족들에게 빚을 갚을 때까지 집에 돈을 보낼 수 없다고 말했습니다. 그가 빚을 갚는 데 4년 연속으로 걸렸다.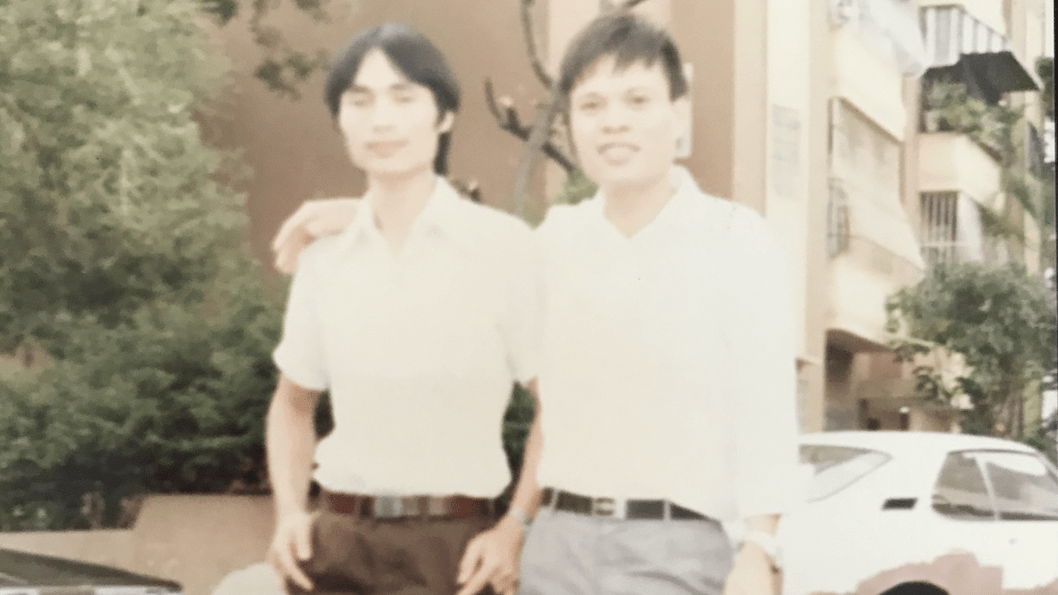 Later on, my father moved to St. Maarten to work in a Chinese department store for a fellow who was from the same village. He was also responsible for making lunch and dinner for the man's family. Unfortunately, the man would complain that my father didn't cook enough, while the man's mother would complain that he cooked too much. This caused them to quarrel against each other more and more over time. The man's wife believed that my father was the cause of the disputes in the family, so she kicked my father out of the house one night. He wandered penniless for three days until another kind man took him in to work in a restaurant. He let my father sleep in the corner of the restaurant. Due to the heavy workload, he felt exhausted to the point that he decided it wasn't working out.
His former employer eventually reappeared and begged him to go back to work in the department store, so my father went and worked for him again. But a few months later, the man's wife still didn't like my father and kicked him out again. Soon, he found another job in a supermarket, where he was mistreated and abused physically and verbally by the wife of his boss.
Sometime later, a wealthy man named Afoo, who passed by the supermarket daily, noticed that my father was an extraordinarily hard-working man. Afoo offered to hire my father to work for him. Because of my father's diligence, Afoo looked after him and offered help wherever needed. He increased his salary over time, which enabled my father to send more money home, and even helped many family members to come to the island, including my mother, brother, uncles, aunts, and other relatives from both of my parents' families. Eventually, Afoo sold one of his restaurants to my father. With that opportunity, he was able to open up more businesses. He provided sufficiently for my grandparents and his four children so that we no longer lived in poverty.
Finances were not the only blessing. Because of his success in business, my father had the ability to support my sister and me as we attended college in the Netherlands. During the first year of college, we both wanted to find a church to do voluntary work, hoping to live a more meaningful life in addition to studying. One day, my sister met the missionaries from The Church of Jesus Christ of Latter-day Saints who invited her to attend the church services and we both did that Sunday.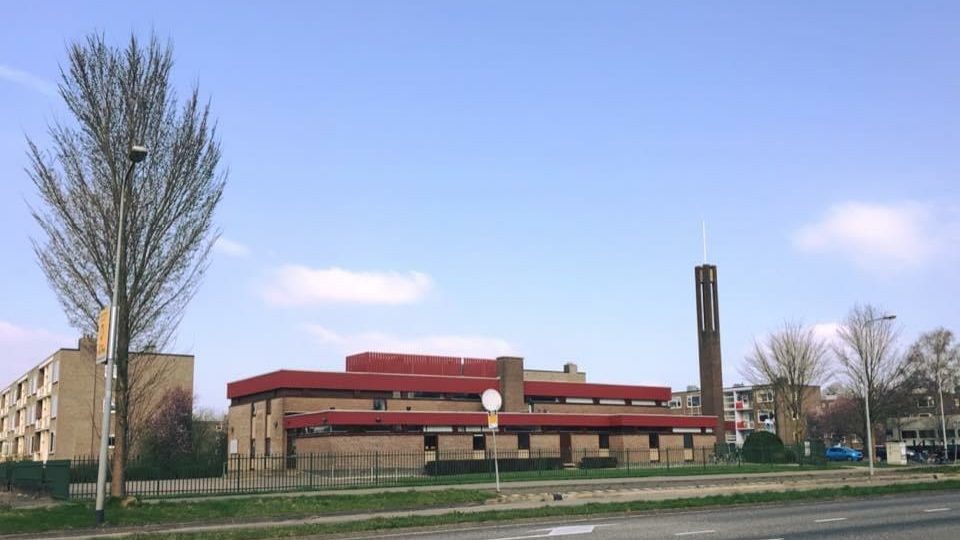 교회에 들어서자 뭔가 익숙하고 따뜻했습니다. 마치 빛이 내 온 몸과 마음과 마음을 설명할 수 없는 기쁨으로 가득 채우는 것 같았습니다. 그 당시 나는 많은 두려움과 슬픔을 안고 살았습니다. 내 삶에서 느꼈던 참된 행복의 부족으로 인해 나는 매주 선교사들을 계속 만나면서 그 전례 없는 기쁨을 계속 느끼게 되었습니다. 마침내 저는 하나님이 살아 계시다는 간증을 키웠습니다. 그분은 하늘에 계신 우리 아버지이십니다. 그분은 우리를 매우 사랑하시며, 이러한 이유로 그분의 사랑하는 아들 예수 그리스도를 보내어 우리의 영원한 행복을 위해 무한한 희생을 치르도록 고난을 받으셨습니다. 동시에 많은 경험과 시련을 허락하셔서 겸손해지고, 영원한 행복의 근원이 자신임을 깨닫게 하셨습니다. 저는 2016년 6월에 예수 그리스도 후기 성도 교회 회원으로 침례를 받았습니다.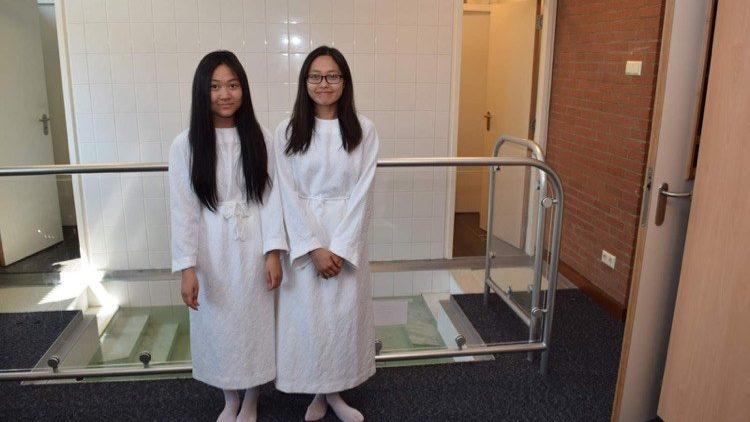 In February 2019, I was doing an internship in England. I had the opportunity to attend a local church meeting one Sunday. I ran into a missionary and learned that she was younger than me, and a more recent convert. Because she insisted on serving a mission, her parents didn't talk to her. The story was very sad, but at the same time, her bright countenance and calm smile were unforgettable. In an instant, some impressive words appeared in my mind, as was described in the scriptures, "notwithstanding it being a small voice it did pierce them that did hear to the center… It did pierce them to the very soul, and did cause their hearts to burn" (3 Nephi 11:3). That voice said to me, "Are you not in easier circumstances than her? What reason do you have to not to go on a mission?" It was very obvious that Heavenly Father was calling me to serve a mission through the prompting of the Holy Spirit.
I didn't want to hurt my family, so I kept telling Heavenly Father in prayers the many reasons why it wasn't necessary for me to serve a mission. Every time I had an excuse, I was convinced otherwise by the example of a missionary. This became a pattern and happened four times in three weeks. Finally, my sister and I fasted in the temple to gain clarity on this matter and asked Heavenly Father if it was His will. We got the same answer at the same time, that I should go.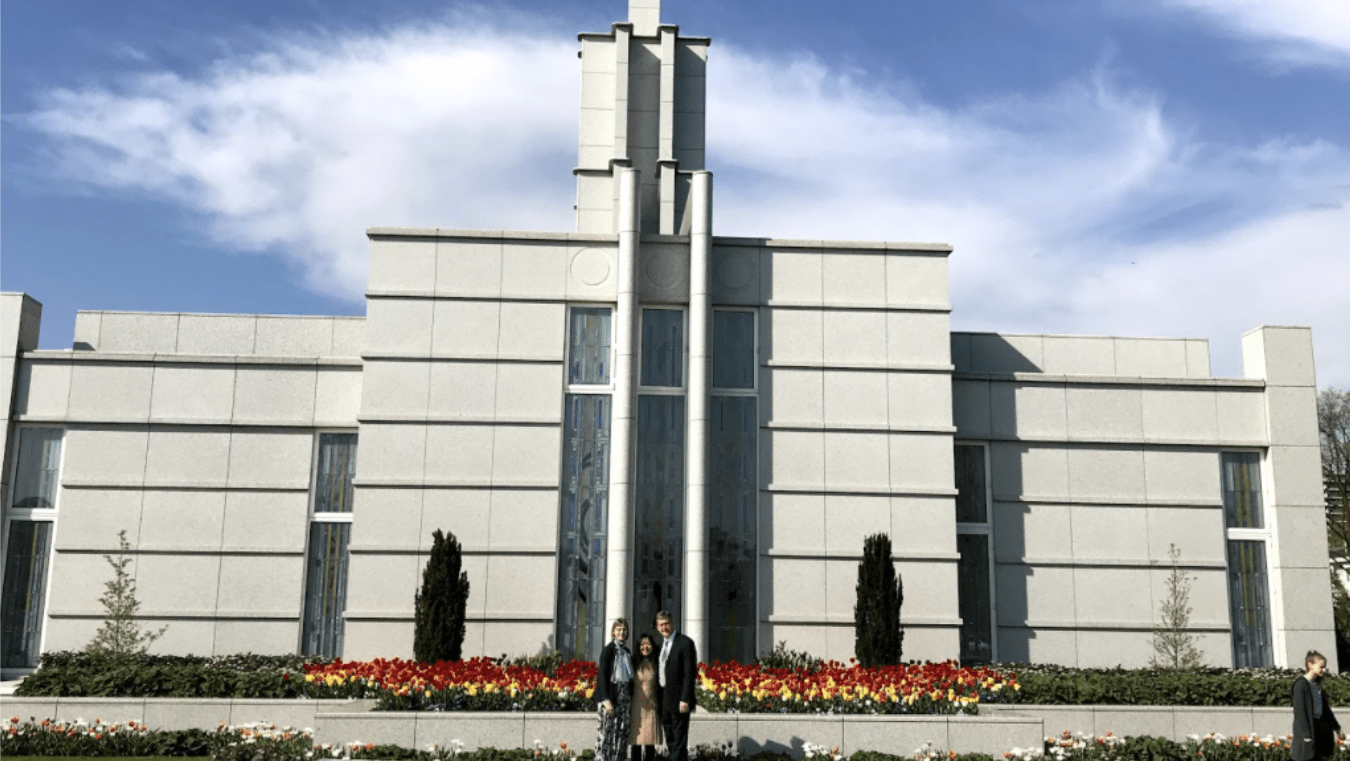 After we left the temple on our way home, I received a shocking message from my father saying, "I just woke up and felt nervous and uneasy. Don't tell me that you are going on a mission!" In order to not worry him, I told him that I was not. After a while, my parents told me that a fortune teller in China told them that something was preventing me from continuing my studies, so they spent a long time convincing me to concentrate on my studies and not get distracted by anything else. Even so, I still filled out mission papers. I was told that because I have a Chinese passport, I needed to have parental consent. Many people thought that would be impossible, including my sister and other Church friends.
This situation lasted until May. One day in the temple, I was prompted by the Holy Spirit to tell my father about going on a mission and was reassured that everything will be all right. At that time, I was accompanied by an elderly couple, the Gouts, who had given me great support and care in many aspects of my life. On May 4th, after dinner with the Gouts, I video-called my father from the dining table, telling him that I was going on a mission. His reaction was just as I had imagined. My decision brought him heartache like a knife through his heart.
My father's perspective was that he had suffered much hardship to raise me up to this point, and now I was leaving to serve a God who was unknown to him. He was thoroughly disappointed in me like he had lost a daughter. He even said, "I don't know how to be a father anymore." I could see that it was so hard for him; he had no more energy to speak and ended the call. Although the Gouts couldn't understand anything that was said, they also felt my father's pain and became emotional because there were no words that could help my father understand the situation. They fasted and prayed a lot for me. I cried to Heavenly Father every night; there was a great spiritual battle in me trying to resolve the will of Heavenly Father and my own father.
일주일 후 그는 나에게 40분 분량의 음성 메시지를 보냈다. 그가 자신의 감정을 표현할 때 모든 문장이 나를 슬프게 했다. 그의 불평을 듣고 내 마음은 괴로웠고, 언니가 지적해주기 전까지는 그가 나를 놓아주기로 동의한 줄도 몰랐습니다. 그는 "당신이 하나님과 나 사이에서 압박을 받고 있다는 것을 압니다. 하나님은 당신이 선교 사업을 하기를 원하십니다. 일을 하거나 공부를 했으면 합니다. 미래에 무슨 일이 일어날지 모르기 때문에 그분께 순종하십시오." 그의 마지못해 승인으로 나의 선교 지원은 마침내 처리되었다.
However, my family did not stop mocking me for my decision. I felt like I was worthless in my family and had only brought them harm. At the same time, I was suffering from a serious illness and was taking medication that made me feel dizzy all the time. I had to give a presentation on my thesis in order to graduate before going on a mission. A miracle happened as I began to present, I felt perfectly fine as I wasn't sick at all until the end of my presentation. I was also worried about my visa issues. Even so, I still felt calm, and I believe Jesus Christ was carrying me and sharing my burdens.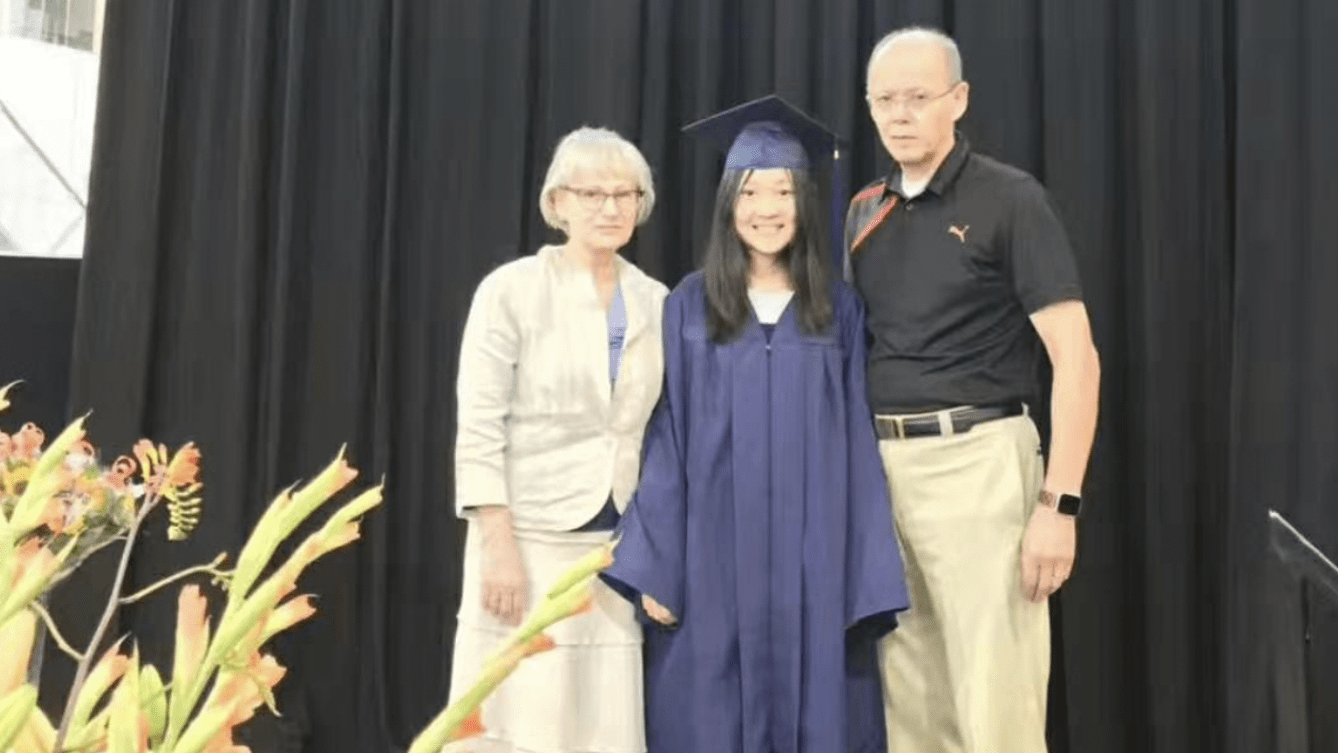 After graduation and leaving the Netherlands, I had about two months left before going on my mission. I felt the need strongly to go to Zhejiang, China, and stayed at my friend's house. It was necessary to avoid any potential obstacles that might prevent me from going on a mission, to apply for an American visa, and to keep going to church on Sundays. The night before I left, my family spoke to me in a negative way, causing me to fall on my knees and cry to Heavenly Father. One image came vividly to my mind: Jesus Christ in the garden of Gethsemane the night before he was crucified, as he knelt and prayed to his Heavenly Father, and learned that he had no other way but to endure the cross to save all mankind. He said, "not my will, but thine, be done" (Luke 22:42). This gave me so much strength. I stood up and wiped away my tears as though nothing had happened. With renewed commitment, I was ready for departure.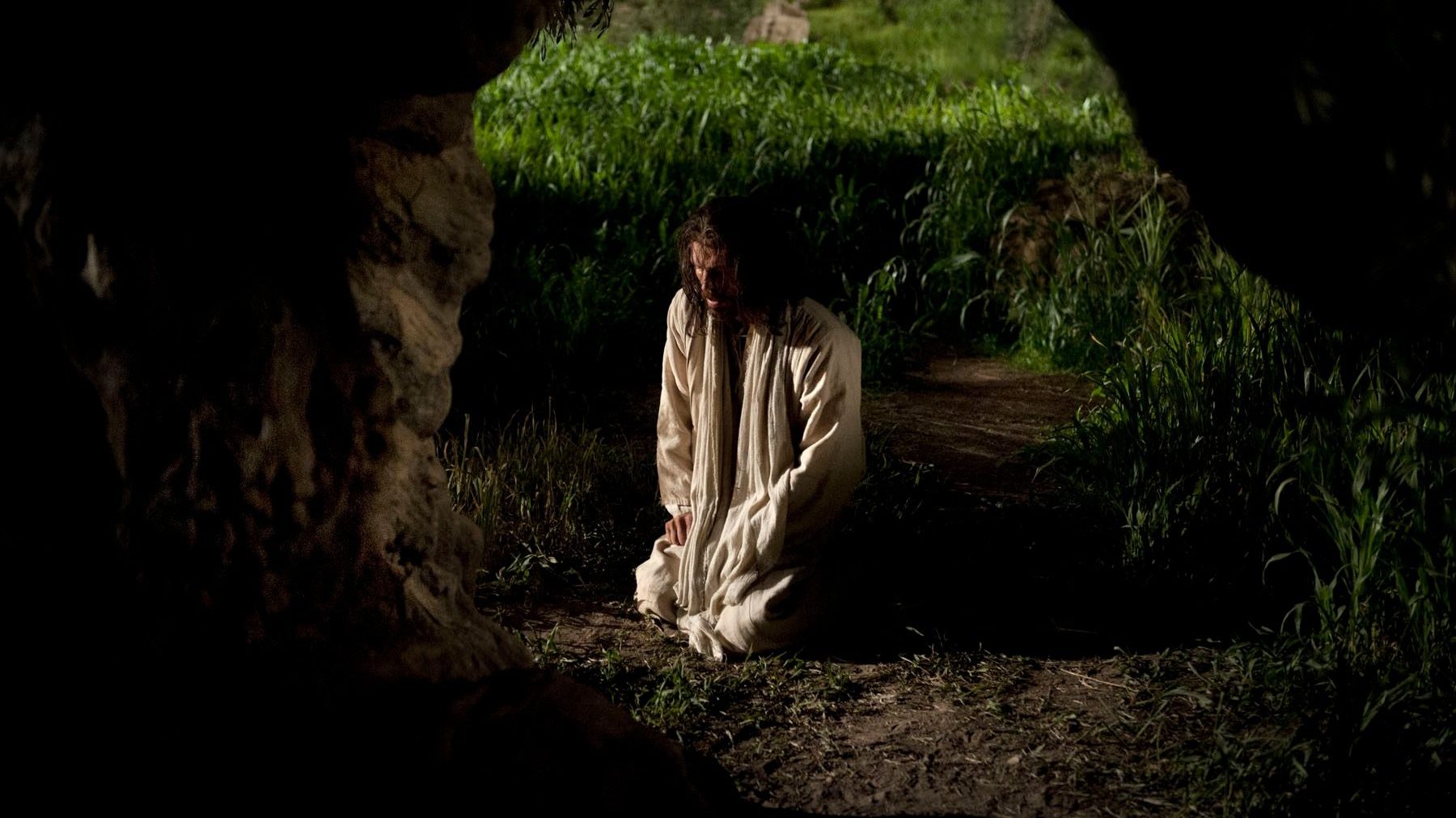 During my mission, some unfortunate things happened at home, which made it more difficult for my family to understand why I was out helping others and not them. However, after returning home, I could see that my father began to have a new view of our Church, as he saw the blessings and changes that the mission had brought me. He began to see how the gospel could help him, being a man full of anxiety. My father has always put family first, and what he cares most about is that our family should always be united. Jesus Christ has given us this opportunity to be with our families forever. My father began to realize that he really felt peace as he studied the Gospel with missionaries, which was an obvious contrast to his troubles in his career and family matters.
나는 내 여동생과 내가 모 가문에서 기독교의 1세대를 시작했다고 생각하곤 했다. 하지만 돌이켜보면 우리가 이전 세대에 크게 의존했다는 것을 알 수 있습니다. 나의 부모님은 엄청난 육체적, 정신적 공헌을 하셨습니다. 그들은 용감하게 마을(안락지)을 세상 반대편(미지의)으로 탈출했고, 일생 동안의 고난과 노동 끝에 언니와 나는 해외로 나갈 기회가 있었고, 선교사를 만나고, 지식을 얻었습니다. 하나님, 선교 사업을 하시고 그리스도의 평화가 우리 가족과 친구들의 삶에 흐르게 하십시오.
두 세대의 파이오니아를 연결하는 것은 파이오니아 이전에 항상 파이오니아가 있다는 것을 이해하는 데 도움이 되었습니다. 개척자 세대 사이에는 연속성이 있습니다. 우리가 한 것은 하나님의 영원한 목적을 이루기 위해 다른 지점으로 여행을 확장하는 이전 개척자의 길을 계속하는 것뿐이었습니다. 선을 위해 기꺼이 희생하려는 사람은 누구나 선의의 일부가 됩니다. 우리가 치러야 하는 대가는 굶주림, 눈물, 육체적 또는 정신적 고통의 형태로 올 수 있지만 이러한 고통에 뒤따르는 행복은 영원합니다.