Temple Hill is a campus of buildings owned and operated by the Church of Jesus Christ of Latter-day saints. These buildings serve different purposes in worship, education, and helping others grow closer to each other and  Christ.  Please feel free to contact any of our facilities to get more information.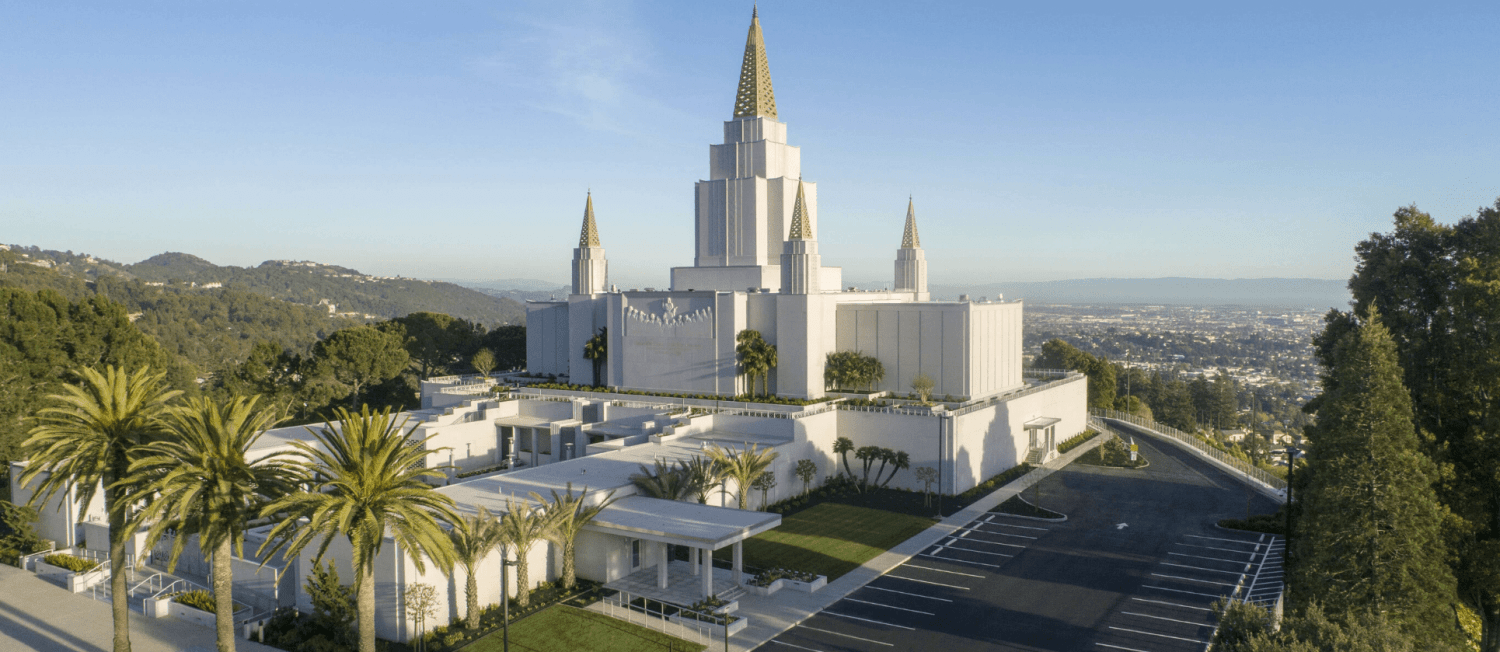 캘리포니아 오클랜드 성전은 예수 그리스도 후기 성도 교회 회원들에 의해 문자 그대로 주님의 집으로 간주됩니다. 성전의 주요 목적은 오클랜드 지역 회원들에게 의식과 축복을 제공하는 것입니다. 의식에는 엔 다우먼트, 결혼, 침례가 포함됩니다.
적극적인 성전 추천서를받은 예수 그리스도 후기 성도 교회 회원 만이 캘리포니아 오클랜드 성전 내부에 들어갈 수 있습니다.
For more information 여기를 클릭하세요.
오클랜드 사원
4770 Lincoln Ave, Oakland, CA 94602
(Open only for living ordinances.)

방문자 센터에서 깨끗한 화장실과 무료 WiFi를 이용하실 수 있습니다.
무료 주차장.
The Visitors' Center features clean restrooms, free parking, and cold water fountains so you can refresh yourself while visiting the Temple Hill grounds.
The Visitors' Center offers free tours led by helpful missionary guides. They are volunteers that come from all around the world to give service to you and your loved ones. They collectively speak over 10 different languages, so just ask them if you have a certain language you feel most comfortable conversing in. These missionaries are expert guides who will help you have a personalized and unique experience at Temple Hill.
For more information 여기를 클릭하세요.
템플 힐 방문자 센터
4766 Lincoln Avenue, 오클랜드, CA 94602
Mon-Sun: 7 am – 8:30 pm
개인 및 그룹 투어 가능
Virtual Tours Available
무료 주차장. 무료 와이파이.
Clean Restrooms and Water Fountains (All Buildings Currently Closed)
The Temple Hill Church Center has 170 rooms, with floor space totaling 1½ acres. The large rooms are used for teaching medium/large groups while the small rooms are provided for teaching groups of 3-12 people. The halls are lined with paintings of Christ's life. With a total of 4,000 pipes, the chapel contains one of the largest organs in the Bay Area. This building is used for cultural events and worship.
Feel free to worship with us.
For more information 여기를 클릭하세요.
Temple Hill Church Center
4780 Lincoln Avenue, 오클랜드, CA 94602
주일 교회 서비스
아침
오전 9:00 – 스페인어
오전 9:00 – 통가
오전 11:00 – 통가
오전 11시 30 분 – 캄보디아어
대낮
오후 1:00 – 영어
오후 1:00 – 북경어
오후 2:00 – 영어
방문자 초대. 무료 주차장.
The FamilySearch Library at Temple Hill attracts visitors from all over the world that come to find information about their ancestors. The library offers free access to genealogical data for billions of deceased ancestors from around the globe. The Oakland FamilySearch Library is a free community resource to the Bay Area and everyone is welcome to come and use it.
오클랜드 FamilySearch 도서관
4766 Lincoln Avenue, 오클랜드, CA 94602
Sun-Mon: Closed
Tue-Sat: 10 am – 5 pm
개인 및 그룹 교육 가능.
방문자 초대. 무료 주차장.
Oakland Distribution Services
The Distribution Services offers Church materials and clothing at a decent price. They hold a large selection of Bibles, Books of Mormon, and other religious texts. They carry also carry artwork, posters, lesson manuals, study guides, uplifting music, and more.
Oakland Distribution Services
4915 Lincoln Way, 오클랜드, CA 94602
월요일 : 휴무
Tuesday–Thursday: 10 am – 2 pm
Friday: 10 am – 5 pm
Saturday: 10 am – 2 pm
일요일 : 휴무