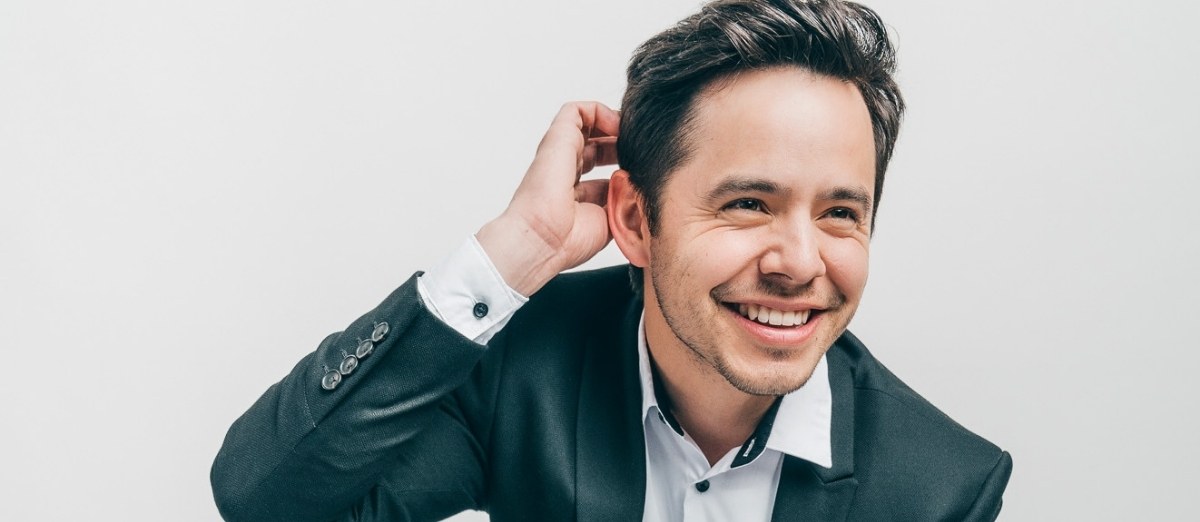 David Archuleta is coming to Temple Hill!
Tickets
David Archuleta is performing with the Temple Hill Symphony Orchestra, conducted by Jay Trottier, at Temple Hill Auditorium.
Frequently Asked Questions
What should I wear?
We recommend business casual, modest attire.
How long is the concert?
About an hour and a half.
How does the seating work when you purchase a ticket?
When you purchase a ticket in one of the price tiers, you will be getting a seat in the specific section of the auditorium associated with that ticket price. When you arrive at the concert, you'll be ushered into the auditorium where you may choose a seat within your designated section.
Where can I park?
Parking at Temple Hill is free. There are 3 lots: the main lot, the lower lot, and the upper lot right across the street. There is also nearby street parking.
How early should I arrive?
The house doors usually open about 30 minutes prior to the concert, but the line to enter will begin earlier than that. We recommend arriving early enough to enjoy a free Temple Hill tour before getting in line. You can schedule that on templehill.org.
Are there any age restrictions?
David's concert is open to "all ages." However, out of respect for David and other audience members, we suggest that the children in attendance be old enough to remain attentive through an hour and a half concert and that any disruptive children be calmed in the lobby.
How many tickets can be purchased at once?
It depends on what tier of tickets you are reserving. If you have a request for a larger group, please contact us through templehill.org.
Can you recommend a hotel near Temple Hill?
We recommend that you do your own research on that and read reviews. It depends on your hotel preferences, price range, and where you are traveling from. There are plenty of hotels to choose from within a 15-mile radius.
How can I get updates on the concert?
Ticket holders will automatically receive important email updates. We also recommend following Oakland Temple Hill on Instagram and Facebook for updates and helpful tips and reminders on parking, dress, etc. Helpful information will also appear on the event page on templehill.org.
What If I can't attend the concert? Can I cancel my tickets?
Eventbrite refund policy: For tickets, you have purchased, you can contact the organizer for a refund. Refunds will be handled on a case-by-case basis and will be issued only to the original payment method. Attendees may request a refund at any time, up to 7 days before the event. You may update or cancel any free tickets through Eventbrite.
Can I take pictures or videos
Photography or recording of any kind is not permitted during the performance, however, visitors are encouraged to take pictures before and after the performance, or outside on the temple grounds. We'd love to see your pictures! Tag us @oaklandtemplehill
Will there be standby seating?
Yes, there will be standby seating 10 min before the concert for any available seats.
What ADA accommodations do you have at Temple Hill?
Temple Hill is committed to accommodating the needs of all guests with disabilities. ADA seating is available to reserve and our ushers will be happy to assist you when you arrive for the performance.
Accessible Parking and Entrances: Temple Hill has a limited number of ADA parking stalls available on a first-come, first-served basis. Guests with special needs can be dropped off close to the entrance if so desired. Just ask for assistance when entering the parking lot. The main entrance into Temple Hill Auditorium is wheelchair accessible. Certified service animals are permitted.
ADA Restrooms: There are ADA-accessible restrooms in the lobby.
What is the Refund Policy?
Refunds are available up to 7 days before the concert. Eventbrite's fees are non-refundable.
Have additional questions?
The best way to ask a question is to send us a message through templehill.org, or through Oakland Temple Hill on Facebook or Instagram.
Oakland Temple Visitors' Center: 510-328-0044
Thanks!