21 Ways to Serve During a Pandemic and Stay-At-Home Order
This article was contributed by a local member of The Church of Jesus Christ of Latter-day Saints. The views expressed may not represent the views and positions of The Church of Jesus Christ of Latter-day Saints. For the Church's official site, visit churchofjesuschrist.org.
In the middle of the COVID-19 pandemic, we welcomed a beautiful baby girl into our family and into a chaotic year. Many friends rallied around us in the weeks before and after her birth and proved you can still lift others' burdens if you're willing to think creatively. Here are 20 ways to keep serving while staying safe at home.
1.) Pour out extra kindness to those working delivery, retail, or grocery store jobs. Show gratitude for their hard work and how they make staying home more comfortable.
2.) Buy produce for a neighbor. In the last few weeks, before our baby was born, a helpful friend texted me, "Can I bring you some fruit?" This can be a great substitute for sharing a homemade meal.
3.) Send a loved one—near or far—a little old-fashioned mail. Include art produced by children to go the extra mile. It is bound to make someone smile.
4.) Call a person who has been on your mind or in your heart. You might say, "I've been thinking about you; how is today going?" and listen for a while. Make an effort to see and hear someone who needs it. Both of you will be blessed.
5.) Record family stories. They might be stories you hear while calling a relative, or stories you are currently living during the pandemic. Keep them in a journal, video, or audio recording so they can become part of your personal and family histories.
6.) Volunteer at a local food bank. ECAP (Emeryville Citizens Assistance Program) is located at 3610 San Pablo Avenue near 580, and volunteers work six days a week to distribute groceries and meals to residents in Emeryville and Oakland. Volunteers are welcome to drop in at the site anytime Monday–Saturday 10 AM–5 PM and stay anywhere from an hour or the whole day.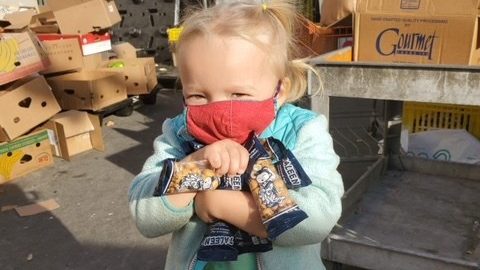 7.) Host a virtual class. If you enjoy teaching, but miss the gym, studio, or classroom, you can connect with students through a video call. You could make a substantial difference in the wellbeing of two or three people despite limited space and in-person connection.
8.) Pay for another car's order in the drive-through line.
9.) Support local businesses and non-profits, many of which offer curbside pickup. Leave positive reviews on Google, Tripadvisor, or Yelp.com for your favorites, be sure to include the Oakland Temple in your reviews.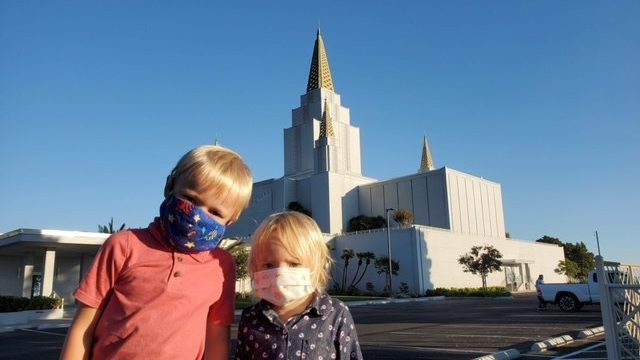 10.) Set aside a few quiet minutes each day to pray or meditate on the wellbeing of others.
11.) Index historical records at FamilySearch.org to make them easily accessible for genealogical research.
12.) Photograph a nearby cemetery. BillionGraves.com aims to make headstones a digital genealogical resource. Anyone can take photos on their smartphone and then upload them to the website for public access.
13.) Provide childcare outside. Offer to take your friends' children to a park.
14.) If delivering a hot meal is not an option, you can write up a thoughtful dinner menu for a friend in order to make healthy meals a step easier. You might even provide groceries.
15.) Offer a family the freedom to play in your yard as if it was their own. This could make a big difference for neighbors or friends without big yards and offers a change of scenery for the children.
16.) Raise money for a cause that's important to you. Our friends leveraged the skills and resources they had to sell freeze-dried candy and turned a $200 donation into $2000.
17.) Donate gently used items to someone in need. Try a Buy Nothing group on Facebook or ask your community if they could use the items.
18.) Donate blood or volunteer at a blood drive. You can look for drives near you at RedCrossBlood.org or vitalant.org.
19.) Use your crafting skills to make warm hats, blankets of all sizes, or masks to donate to others. Handmade items make thoughtful gifts.
20.) Brighten the life of a child in foster care by purchasing and personalizing a duffle bag for them to transport their belongings. Learn more at togetherwerise.org, which aims to eliminate trash bags as luggage containers.
21.) Turn pennies into miracles. RIP Medical Debt is a nonprofit that forgives medical debt for cents on the dollar by combining collection experience and compassion. Your small donations make a much bigger splash.
Under any circumstances, there are a variety of ways you can demonstrate kindness. In what ways have you served during the COVID-19 pandemic?
Written by Kelli K. O'Dair